Crystal Star Est-Aid Review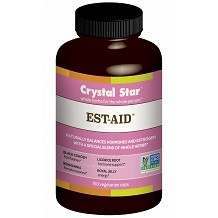 Est-Aid, made by Crystal Star, is an herbal supplement formulated specifically for those who suffer an estrogen/progesterone imbalance. Est-Aid claims that it will provide relief from the most common symptoms and discomforts of menopause. It also claims to be beneficial by reducing moodiness, helping aid memory retention and body thickening.
Ingredients
Crystal Star-Est-Aid contains only four natural ingredients. They are as follows:
Black Cohosh – Black Cohosh has been used for centuries to treat the many symptoms of menopause in woman. There is some scientific evidence to support this. It is suggested that woman who are suffering from menopause issues takes at least 20-40 milligrams of Black Cohosh.
Licorice Root – is most commonly known as a food flavoring agent. Licorice root can be used to aid in the proper function of hormones. Licorice can also be used to help reduce sore throats, cough and ease bronchitis
Rehmannia – there is insufficient evidence that rehmannia works to help aid any medical condition. There are some chemicals in rehmannia that might affect the immune system. It may also help reduce inflammation and pain. It does appear to help lower blood sugar levels and could be beneficial to those suffering from diabetes.
Royal Jelly – is a milk substance produced by the working honey bee. It contains mostly water, some protein and sugar, minimal fats, vitamins, some salts and amino acids. There is very little scientific support about the effects of royal jelly but it is believed to have some effect on tumors and reducing the development of hardening in the arteries.
Dosage
Est-Aid is suggested to be taken three times a day in the form of two capsules, for two months' time. After two months have passed, two capsules may be taken twice daily, two in the morning and two in the evening. After another two months have passed, it is strongly recommended that a break be taken for one months' time.  Est-Aid even goes as far as suggesting taking another product called Easy Change, which is manufactured by the same company.
Price
Crystal Star Est-Aid is slightly more expensive than other brands. It costs $29.95 for a bottle of 90 capsules.
Guarantee
The company will accept returns for defective products for up to 30 days from the date of purchase. There is no refund available if you find the product simply does not work for you. The product also does not come with any other kind of guarantee.
Conclusion – Crystal Star Est-Aid Review
While Crystal Star Est-Aid does appear to be a good product using natural effective ingredients, when it comes to the actual prevention or relief of menopausal symptoms, woman may want a better solution. A product without a guarantee is very hard to trust and it just makes the consumer wonder why its makers don't want to stand by their product.
Top investigative research brought to you by the experts at Customer Review.