Eclectic Institute Menopause Support Review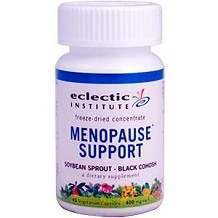 Menopause Support is designed for woman entering or going through the menopausal phases of life. It is an all-natural supplement made up of different herbs that may help offer relief to some of the discomfort and symptoms of menopause. Menopause is an unavoidable time in a woman's life, because of this, products that claim to help during this time should be looked at further.
Ingredients
Menopause Support is made up of only three ingredients:
Soybean – There are many uses for soybean products. They are used to help lower cholesterol and high blood pressure. It may assist with diabetes, asthma, some types of cancers. Women mainly use soy for preventing hot flashes associated with breast cancer, menopause and premenstrual syndrome discomforts.
Black Cohosh – For centuries the root of the cohosh plant has been used for a multitude of conditions. Black Cohosh is most commonly used to help relieve the symptoms of menopause which include, vaginal dryness, hot flashes, night sweats, palpitations, mood, headaches and sleep disturbances. There have been studies that support its use, but experts so think that the evidence is unclear and more research should be conducted.
Wild Oat – The use much of the oat plant to make medicines. Different parts of the plant are used to treat a multitude of different illnesses. The oat bran and whole oats are used to treat high blood pressure, diabetes, digestive issues and the prevention of heart disease. People also use oats to help with join pain, fatigue, weak bladder and skin diseases. There is no indication oats may help with menopause symptoms.
Dosage
Menopause Support states the recommended daily dosage is one to three capsules by mouth each day. There is no indication as to how many capsules you receive in the bottle. If taking the maximum dosage there would need to be at least 90 capsules included.
Price
Menopause support is one of the lower priced brands at a cost of $16.02. It only offers you a savings of 40 cents when you buy four bottles or 80 cents when you buy 12 bottles.
Guarantee
There is no stated or implied guarantee or product return guarantee for Menopause Support. This can be concerning as there is no policy set in place if you, the customer, are unhappy with their product. It is best advised to check with your online supplier or local store for their individual guarantees and product return policies.
Conclusion – Eclectic Institute Menopause Support Review
While Menopause Support does contain limited natural ingredients, they do appear to help improve your overall health and how your body will function. Unfortunately none of the three ingredients have been clinically studied and are not proven to be effective or beneficial in aiding relief to woman suffering from menopause symptoms. The product does not come with any guarantee which is as concerning as the fact the supplement contains no ingredients that target menopause symptoms.
Top investigative research brought to you by the experts at Customer Review.