Hot Flash Ease Botanic Choice Review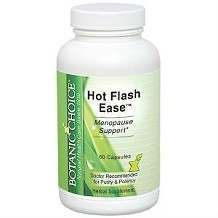 Hot Flash Ease by Botanic Choice is an herbal extract supplement that claims to help woman who are suffering from the discomforts of menopause, better manage their symptoms. It is suggested that it helps reduce the occurrence of changes in mood, irritability, restlessness, tiredness, hot flashes and night sweats.  It also claims to help aid memory retention.
Ingredients
Soylife Soy Germ Extract – contains chemicals called isoflavones which are very similar to estrogen. They imitate estrogens characteristics and work by keeping the heart healthy and reduce the symptoms of menopause.
Black Cohosh extract – helps relieve the most common discomforts of menopause. It suggested that it is most effective in doses of 20-40 milligrams. This dose indicates relief of headaches, hot flashes, changes in mood, sleep disturbances, palpitations and vaginal dryness.
Chaste berry extract – comes from the fruit of the chaste tree. It is used to help relieve menstrual related discomforts as well as menopause. It works by affecting a woman's reproductive system.
Dong Quai extract – has not been shown to be effective in helping women suffering from menopause even though it has been used for this purpose for many years. Scientific information shows it is more effective in preventing premature ejaculation.
Gingko biloba extract – helps improve blood circulation which in turn helps the brain function better. It also contains substances that may kill certain bacteria and fungi that can cause blood infections.
Red clover extract – is another source of isoflavones like Soy Germ Extract. It is used to help reduce hot flashes and other menopause related symptoms.
Other inactive ingredients: Gelatin, rice, flour, maltodextrin, vegetable magnesium stearate, silicon dioxide, Gun Arabic
Dosage
Hot Flash Ease should be taken daily in the form of two capsules.
Suggested daily dosage is 2 capsules.
Side Effects
People who have an allergy to soy should avoid this product. It should also be noted that ginkgo biloba contains a toxin that can cause side effects like loss of consciousness and even seizures.
Price
Hot Flash Ease is one of the more expensive menopause supplements available on the market. The suggested retail price is $39.99. However, the website does offer a discounted price of $19 per bottle. If you purchase additional bottles the price drops a further $2. The price is reasonable once the reductions are applied.
Guarantee
Botanic Choice does offer a 100% refund policy on Hot Flash Ease if you are dissatisfied with the product in any capacity.  Simply return the unused portion and receive your refund.
Conclusion of Hot Flash Ease Botanic Choice Review
Botanic Choice appears to have made a reasonably good supplement with natural ingredients that do target many of the symptoms and discomforts of menopause. On the other hand, it is essential for a product to have FDA approval so that consumers get assurance about it's effectiveness.
Top investigative research brought to you by the experts at Customer Review.