Enzymatic Therapy EstroBalance Review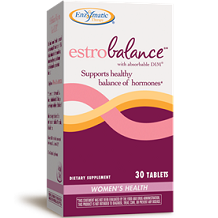 Today we review Enzymatic Therapy EstroBalance. With nutrients commonly found in leafy green vegetables, this supplement will help to offer a healthier balance of good estrogen to bad estrogen in your body. This better balance will promote better breast health, better heart health, and better regulation of your metabolism.
Ingredients
Indoplex Diindolylmethane (DIM) Complex
You would need to eat 2 pounds of broccoli to get the same amount of DIM found in one tablet of this supplement. DIM helps to better balance your estrogen levels to help keep your hormones in check. While this ingredient will help you to keep your hormones balanced, it is unclear how well this will truly work to help stop the hot flashes and night sweats from menopause.
Dosage
This supplement comes in an easy to take, once per day formula. You should take the daily tablet with food. If you feel the need for additional support, you can increase your daily dose to two capsules. It is not stated whether there is a better time of day to take this supplement to ensure maximum absorption.
Possible Side Effects
This supplement may cause a change in the color of your urine. This is a completely harmless side effect. If you are pregnant, nursing, or trying to become pregnant, do not use this product.
Price
Bottles are available with 30 and 60 tablets. The 30 tablet bottle costs $27.49 while the 60 tablet bottle costs $50.99. Shipping is an additional flat rate of $10, or $25 for next day. To qualify for free shipping, your order must be over $150. Aside from free shipping, there were no other available discounts we found for this supplement. Even on the product's website, clicking on the special offers link sent us to a broken webpage.
Guarantee
Enzymatic does not offer any kind of guarantee on its products. They ask that you fully inspect your products immediately after delivery to inspect for damage. If you find a reason to want a refund, you must contact their customer care center and get a Product Return Authorization Number. If you item was not defective, you are eligible to receive a credit for unopened bottles that you wish to return within 90 days. Defective products only have 30 days to return them. If you received a package with expired products, the company will refuse to accept a return at all.
Conclusion of Our Enzymatic Therapy EstroBalance Review
There are a few things we liked about Enzymatic Therapy EstroBalance. This easy to take formula comes in a once daily tablet. Additionally, the manufacturer is open about the side effects you may see with this supplement, so you know exactly what to expect.
Unfortunately, we had many concerns regarding this supplement. While the main ingredient will help balance your estrogen, we are unsure how well that will actually help stop your menopause symptoms. Additionally, aside from free shipping, there are no discounts available for this product. Lastly, the manufacturer does not offer a guarantee on this supplement and has very strict stipulations on what it will actually accept for a refund. For these reasons, we cannot recommend this supplement to help you overcome your menopause.
Top investigative research brought to you by the experts at Customer Review.