Meno Guide Erba Vita USA Review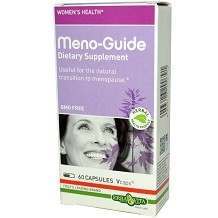 Meno Guide is an herbal all-natural supplement that is formulated using the most popular vitamins, minerals and herbs available. It is designed for women going through the menopausal phases of life. Meno Guide claims to help ease the difficult symptoms associated with menopause.
Formula
This supplement is made up of many vitamins, minerals and herbs. The ingredients are as follows:
Vitamin D – is required for the absorption of calcium and maintaining bone density.
Calcium – is required by the body to build strong bones and healthy teeth.
Phosphorus – helps keep bones healthy and maintains functioning of the muscles, kidneys and heart. Phosphorus also helps lower to occurrence of hot flashes.
Magnesium – is required by the body to aid in the absorption of calcium.
Kudzu root extract (Pueraria lobata) – is a plant that is rich in steroid hormones similar to estrogen. It helps alleviate symptoms of menopause in relation to low estrogen levels.
Flaxseed extract (Linum usitatissimum) – is an herbal supplement that helps lower the level of cholesterol as well as improving cardiovascular health. It may help reduce hot flashes and sweating during the night.
Caigua (Cyclanthera pedata) – recent research has shown that this climbing vine's fruit contains substances that reduce cholesterol and promote weight loss. It also has antioxidant properties.
Flax microencapsulated oil – can help reduce inflammation and is useful in people who suffer from rheumatoid arthritis.
Black Cohosh root extract (Cimicifuga racemosa) – a plants who root is used for medicinal purposes specifically for menopause. It helps reduce many of the most common complaints associated with menopause.
Dong Quai root extract (Angelica sinensis) – may help reduce menopause symptoms.
Motherwort (Leonurus cardiac) – contains chemicals that imitate estrogen and helps reduce complications in association with menopause.
Black Horehound (Ballota nigra) – has antioxidant and anti-inflammatory properties. It is reported to help ease symptoms of menopause in some woman.
Soy bean seed extract (Glycine max) – can imitate estrogen-like properties. It may help reduce hot flashes as well as other symptoms of menopause.
Horsetail extract (Equisetum arvense) – maintains the health of bones and can prevent osteoporosis. It is also reported to help relieve some urinary tract complication.
Other ingredients: Vegetal Jelly VCaps (Hydoxypropylmethylcellulose) which are considered vegan friendly, microcrystalline cellulose, magnesium stearate, maltodextrin
Dosage
Meno Guide suggest that its product be taken daily with water in the form of two to three capsules. Dosage may also be split throughout the day.
Price
Meno Guide comes in bottles which contain 60 capsules each. It is available at a discounted price of $16.63 which includes shipping. It can be found on third party websites like Amazon. Its suggested retail price is $22.29.
Guarantee
In our research we were unable to locate any guarantee or return policies. This could vary between different stores so consumers should check prior to purchasing.
Conclusion of Meno Guide Erba Vita USA Review
While the price of this product is reasonable, the lack of any kind of guarantee can be concerning. Plus, the long list of ingredients can make any consumer weary of buying this product.
Top investigative research brought to you by the experts at Customer Review.