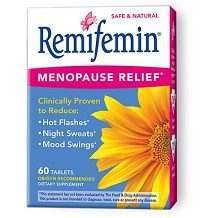 This review is for Remifemin Menopause Relief, a dietary supplement designed to relieve common menopause symptoms. Remifemin Menopause Relief only contains one natural ingredient that helps prevent menopause symptoms, such as hot flashes, night sweats, mood swings, and irritability. According to the manufacturer, Remifemin has also been designed to take the place of Hormone Replacement Therapy.
Ingredients
Remifemin Menopause Relief only contains one active ingredient:
Black Cohosh Extract is a common ingredient in menopause supplements. Many studies have observed that Black Cohosh Extract helps relieve a number of uncomfortable menopause symptoms, such as hot flashes, sweating, headaches, heart palpitations and vertigo. Some studies suggest that Black Cohosh Extract helps reduce anxiety, depression and sleep problems. However, there is still significant debate among the scientific community on whether Black Cohosh Extract really does relieve menopause symptoms. The manufacturer's website cites numerous clinical studies, many double-blind and a few placebo-controlled, that demonstrated the effectiveness of black cohosh.
Inactive Ingredients include:
Lactose
Cellulose
Potato Starch
Magnesium Stearate
Natural Peppermint Flavor
Dosage
The recommended dosage for Remifemin Menopause Relief is two tablets per day. For the best results, it is recommended to take one tablet in the morning and one tablet in the afternoon. Tablets should be taken with water. Results can be expected within a few weeks.
The typical recommended dosage amount for Black Cohosh Extract is 40 to 80mg a day. This product's quantity falls below the recommended dosage amount, but is still considered to contain the beneficial dosage amount.
Possible Side Effects
Remifemin Menopause Relief contains the following warnings:
Individuals taking prescription drugs should consult a doctor before taking this product.
Individuals who have been treated for breast cancer, or other hormone-dependent cancers, should not take this product.
Pregnant and nursing mothers should not take this product.
Adverse reactions include: abdominal pain, dark urine, jaundice, and the development of liver disorders.
Price
Remifemin Menopause Relief is not available for purchase through the manufacturer's website. However, the manufacturer does provide a "where to buy" tool. Remifemin can be purchased from a number of common online and in-store pharmacies. Customers can purchase a 60 or a 120 tablet bottle of Remifemin. A 60 tablet bottle costs around $11 and a 120 tablet bottle costs around $20.
Guarantee
The manufacturer does not advertise any guarantee on its website. Individuals buying Remifemin will have to inquire about the return policy from whomever they purchase this product from. However, customers can submit questions on the manufacturer's website.
Conclusion of Our Remifemin Menopause Relief Review
Remifemin Menopause Relief seems to be a good product. It only contains one natural ingredient, which has been proven to be effective in a number of clinical studies. It has also garnered many customer reviews, the majority of which (77% at the time of writing) are positive (with 16% negative). However, Remifemin seems to have more warnings and possible side effects than other natural menopause supplements. This could be a result of only using Black Cohosh Root in its formula. There is also a lack of a money-back guarantee which prevents a new customer from trying it risk-free.
Top investigative research brought to you by the experts at Customer Review.