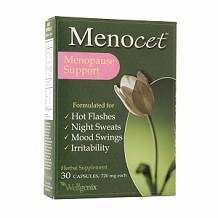 Menocet is an herbal, mineral, and vitamin supplement that is designed to help alleviate the discomfort and symptoms for women going through the phases of menopause. It claims to target the most common symptoms including hot flashes, night sweats, changes in mood and irritability.
Ingredients
Menocet is made up of the following ingredients:
Vitamin E – may help lower the occurrence of hot flashes.
Vitamin B1, B2, B6, B12, Niacin, Folic acid – are vitamins that are required by the body for general overall health and well-being.
Calcium – prevents osteoporosis as well as being the building block for strong bones and healthy teeth.
Phosphorus – is a mineral that aids the body in absorption of calcium. It is essential for healthy bones and teeth.
Magnesium oxide – this mineral is also essential for strong bones. It may help reduce some of the symptoms of menopause like insomnia, mood swings irritability and water retention. Magnesium also helps increase energy levels.
Black Cohosh root powder – has been used for centuries by woman to alleviate many of the pains and discomforts associated with menopause. There is very little scientific evidence that it does help, but as it has been used for hundreds of years, the likelihood that it does contribute to the relief of these symptoms is high.
Red clover blossoms powder – is used to help treat many conditions even though it lacks scientific evidence. It is used the prevention of certain cancers, digestive issues, and some lung related illnesses. Some women use it to help relieve hot flashes caused by menopause, but there is no evidence that this works to control it.
Dandelion root powder – contains chemicals that might increase urinations and decrease inflammation. It also used to promote appetite, ease upset stomach and relieve pain.
Saw Palmetto powder – may help control symptoms of menopause.
Soy isoflavones – imitates estrogen and may reduce menopausal symptoms.
Other ingredients: Magnesium stearate and silica
Dosage
Menocet is suggested to be taken once daily.
Side effects
In rare instances, black cohosh may cause digestive issues and affect liver function. People who are allergic to soy may want to avoid this product.
Price
30 capsules cost $19.95 but Menocet offers a refill option that takes an additional 20% off if you opt for it.
Guarantee
The company does not offer a money back guarantee on this product. However it does allow customers to exchange the product for another in their range if they are displeased with the product they purchased. The replacement guarantee is available for only 30 days from the purchase date.
Conclusion Menocet Wellgenix Review
Menocet contains many of the same natural ingredients like other Menopause Supplements. However, it is not protected by a full 60 day money back guarantee. Menocet also does not have different formulations for day and night, designed to target symptoms that are most likely to occur at those times.
Top investigative research brought to you by the experts at Customer Review.