Terry Naturally Menopause Relief Review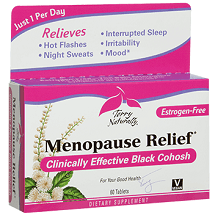 Terry Naturally Menopause Relief is a black cohosh-based product for the relief of menopause symptoms. Its manufacturer says the supplement is what thousands of women have been expecting to deal with these problems. Described as an "estrogen-free botanical," it is said to provide relief from hot flashes and night sweats. The product also controls irritability, balances mood, and promotes quality sleep. This way, you are ensured of "happier" days. Let our Terry Naturally Menopause Relief review help you decide if this is truly the supplement you want.
Ingredients
It is common knowledge that the content of a supplement (and their proportions) determines efficacy. The formula features the main ingredient, 13 mg of black cohosh rhizome extract. This herb, which is also known as black snakeroot, treats diverse female health challenges. It is especially known to help with symptoms of menopause as well as menstrual issues and premenstrual syndrome (PMS).
Other ingredients include:
Cellulose
Croscarmellose sodium
Hydroxylpropyl methylcellulose
Silicon dioxide
Stearic acid
Triacetin
Titanium dioxide
This product does not contain any artificial flavorings and preservatives.
Dosage
Adult women seeking symptoms of menopause relief are to take one tablet of Menopause Relief daily. Terry Naturally says this dose has been shown in clinical studies carried out in Europe to deliver consistent results. It is not clear from available information if the pill is to be taken at any specific time.
Possible Side Effects
We didn't find significant information on side effects from the use of Menopause Relief. But then, the most information on it appears to be from its maker. There exists the possibility of adverse reactions, though. The main active ingredient used, black cohosh, has been associated with side effects such as abdominal pain, headaches, and diarrhea. You may have no issue when used the right way.
Price
A pack of Menopause Relief, containing 60 tablets, sells for $11.95 via Terry Naturally's website. At one pill a day, that looks like a two-month supply.
Guarantee
The manufacturer of this supplement offers a 90-day money back guarantee on its products. It promises a full refund of your purchase price if you are not satisfied for any reason. But you need to make sure you return the product within 90 days from the date of purchase. Before asking for a refund, you are requested to first contact the company via a specific email available on its website for a Return Authorization Number.
Conclusion of Our Terry Naturally Menopause Relief Review
This seems to be a decent product for the relief of menopausal symptoms. It is very affordable and there is also a 90-day money back guarantee. However, the supplement features only a single active ingredient, which is also capable of producing side effects. The information on what time of the day to use could also be clearer. Menopause Relief doesn't seem to be all that popular on the market as well. You might want to search for a more popular product.
Top investigative research brought to you by the experts at Customer Review.