Integrative Therapeutics AM/PM Menopause Review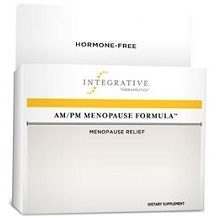 Integrative Therapeutics AM/PM Menopause is a product that offers a unique approach to dealing with symptoms of menopause. The symptoms that the supplement supposedly helps with include fatigue, hot flashes and vaginal pain. The company behind it says the product is "hormone-free" and helps to address common symptoms of menopause both during the day and at night. Read our Integrative Therapeutics AM/PM Menopause review further to know if you should spend your money on this one.
Ingredients
This female health supplement is presented as morning (AM) and nighttime (PM) tablets. The main ingredients in the AM formula include:
• Asian ginseng (Panax ginseng) root extract which contains 7 ginsenosides – 100 mg
• Black cohosh (Cimicifuga racemosa) root and rhizome extract which contains 2.5% triterpene glycosides – 20 mg
• Green tea leaf extract (Camellia sinensis) as patented Sunphenon and containing 50 mg caffeine – 250 mg
The PM formula features:
• Black cohosh (similar to that of AM tablet) – 20 mg
• Hops flower extract (Humulus lupulus) – 100 mg
• L-Theanine (patented Suntheanine) – 50 mg
• Valerian root extract (Valeriana officinalis) standardized to 0.8% valerenic acids – 200 mg
Some of the other ingredients in both formulas include: cellulose, hydroxypropyl methylcellulose, magnesium stearate, sodium carboxymethyl cellulose, and soy lecithin.
Also known as black snakeroot, black cohosh is commonly recommended for treating female health issues. It is believed to help with menopausal symptoms, menstrual cramps and premenstrual syndrome (PMS) among others. It provides hormonal support and helps to deal with hot flashes and mood swings. Green tea extract provides energy while hops, L-Theanine and valerian all help to promote relaxed feeling and restful sleep.
Dosage
It is recommended to take one AM (white) pill in the morning and a PM (purple) pill at night. The PM tablet should ideally be taken about 30 to 45 minutes before you go to bed. Integrative Therapeutics says you may need to take the supplement for up to five weeks for optimal results. You are also to continue using it to maintain the relief you achieve.
Possible Side Effects
This is a mostly safe health product given its use of natural ingredients, when taken in normal dosages. However, we did come across a report of allergic reaction involving swollen eyes and breakouts of itchy rash.
Integrative therapeutics advises that individuals who are sensitive to caffeine should not use AM/PM Menopause Formula. It is also not recommended for pregnant women, nursing mothers and individuals younger than 18 years. You should speak to a doctor if you have liver issues or on prescription drugs before use.
Price
The suggested retail price for AM/PM Menopause is $24.50. This is for a month's supply of 60 tablets.
Guarantee
We didn't notice any mention of a money back guarantee on Integrative Therapeutics' website. So, you may be taking a bit of risk by trying this product.
Conclusion of Our Integrative Therapeutics AM/PM Menopause Formula Review
AM/PM Menopause Formula appears to be a decent product for relief of symptoms of menopause. The two-tablet approach looks credible and usage is easy. And its Amazon customer ratings at the time of writing were very good (although not enough reviews had been submitted to for us to rely on them completely). However, there appears to be a possibility of allergic reactions from use and the lack of a money back guarantee is of concern as well. This might not be the best you can get.
Top investigative research brought to you by the experts at Customer Review.