Natrol Complete Balance for Menopause Review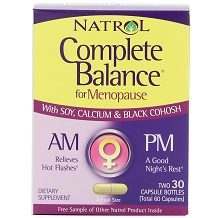 Complete Balance for Menopause is a supplement for dealing with the unpleasant symptoms of menopause. The product, which contains vitamins, herbs, soy and calcium, assists in providing relief from hot flashes and mood swings. It supports your mood and aims to make sure you have a comfortable day and a restful night, according to its manufacturer. It comes in form of AM and PM formulas for a more thorough management of menopausal symptoms. We present this Complete Balance for Menopause review for you to further assess the suitability of the product.
Ingredients
This female health supplement is a blend of the following ingredients:
AM formula
• Vitamin B1 (Thiamine HCI) – 3 mg
• Vitamin B2 (Riboflavin) – 3.4mg
• Vitamin B6 (Pyridoxine HCI) – 4 mg
• Folic acid – 400 mcg
• Vitamin B12 (Cyanocobalamin) – 12 mcg
• Calcium (Calcium carbonate) – 125 mg
• Soy extract (Glycine max) – 62 mg
• Soy Isoflavones – 25 mg
• Black cohosh root extract (Cimicifuga racemosa) – 40 mg
• Triterpene glycosides – 1 mg
PM formula
• Calcium (Calcium carbonate) – 175 mg
• Soy extract (Glycine max) – 62 mg
• Melatonin – 1 mg
In addition to the above ingredients, there are several others. These include acacia gum, maltodextrin, gelatin, magnesium stearate and purified water.
The role each of the ingredients play in the supplement is not clearly explained on the product website. But black cohosh is commonly used in female health products for its usefulness in managing menstrual cramps, symptoms of menopause and premenstrual syndrome (PMS). Calcium protects against bone density loss and melatonin enhances relaxation and promotes restful sleep.
Dosage
Women with menopausal symptoms are to take one AM capsule every morning. The PM capsule is to be taken half an hour prior to going to bed each night.
Possible Side Effects
Complete Balance for Menopause is for the most part a safe product but there may be problem if you are sensitive to any of its ingredients. We saw user complaints of chest discomfort and breaking out in hives. You should, of course, discontinue use if you experience negative reactions, including fatigue, loss of appetite, abdominal pain or yellow eyes. Natrol advises that you consult a healthcare expert before use if you are pregnant, lactating, have a medical condition or on prescription drugs before using its product.
Price
Complete Balance for Menopause is available in select retail stores and online. At the time of writing, you could buy a package with 30 AM and 30 PM tablets from the manufacturer's website for price of $9.99.
Guarantee
The company offers an impressive return policy, accepting returns for refund up to a year after purchase, including opened/used packages.
Conclusion of Our Complete Balance for Menopause Review
This is a product that may help deal with your symptoms of menopause. It contains several ingredients we think could be beneficial. It is also very affordable and comes with an attractive money-back guarantee policy. However, we note that some users have complained of allergic reactions or that it didn't work for them.
Top investigative research brought to you by the experts at Customer Review.