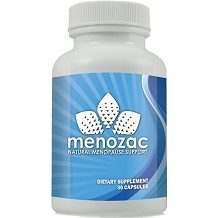 This is a review of Menozac Menopause Relief, a dietary supplement that is designed to help relieve uncomfortable menopause symptoms. Specifically, Menozac Menopause Relief is meant to reduce anxiety, bloating, hot flashes, night sweats, mood swings and vaginal dryness. It also helps the body adjust to urinary and appetite changes.
Ingredients
Menozac Menopause Relief contains two active ingredients:
Proprietary Blend containing: Soy, Black Cohosh, and Damaiana
Vitamin E is used in menopause supplements because some studies suggest that it prevents hot flashes, as well as vaginal dryness. Menozac Menopause Relief's proprietary blend contains ingredients that improve a variety of menopause symptoms. For example, soy keeps estrogen levels balanced. Black cohosh prevents hot flashes and night sweats, as well as improves other sleep problems. Damaiana decreases anxiety levels and helps post-menopausal women feel relaxed.
Inactive ingredients include:
Microcrystalline Cellulose
Gelatin
Silicon Dioxide
Water
The formula for Menozac Menopause is simple and uses natural ingredients, which most likely means that this product doesn't contain any unnecessary ingredients. However, after further research it was revealed that there are some debates about whether the ingredients used in this product actually improve menopause symptoms.
Dosage
The recommended dosage is one capsule a day.
We are unsure if this dosage might be too high or too low, as the the product does not list how many mg of soy, black cohosh or damaiana is included in the proprietary blend. There is also no information indicating how long it takes to see results.
Possible Side Effects
Menozac Menopause Relief contains the following warning:
Individuals suffering from liver disease, or individuals with a family history of liver disease, should consult a doctor before taking this product.
Price
Menozac Menopause Relief can be purchased from the manufacturer's website for $49.95 for a 30-capsule (one-month) supply.
Guarantee
The manufacturer has a 30-day, money-back guarantee. However, there are exceptions. For example, customers must use the product as recommended in order for the manufacturer to consider issuing a refund. If the product does not produce the advertised results, then customers can request a Return Merchandise Authorization Number within 30 days of purchase to receive a refund. Refunds are only guaranteed for online purchases. Customers who want to return unopened products must contact the customer service department, as unopened products are only refunded on a case-by-case basis.
Conclusion of Our Menozac Menopause Relief Review
Menozac Menopause Relief seems to be an ok product. The formula for this product is simple and contains natural ingredients, which decreases the risk of side effects. The manufacturer does offer a money-back guarantee. While the product lists the daily dosage there is uncertainty about how long this product is supposed to be used for. Menozac Menopause Relief also lacks customer reviews, making it difficult to determine whether this products works as advertised.
Top investigative research brought to you by the experts at Customer Review.