Health Labs Nutra Ultimate Digestion Solution Review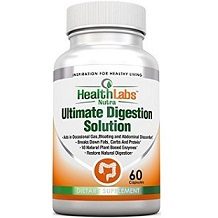 Ultimate Digestion Solution is a plant-based enzyme formula designed to designed to target difficult digestion and the breakdown of a broad range of foods and nutrients and to treat the symptoms of IBS which often includes gas, heartburn, bloating, nausea, and indigestion. The manufacturer's claim that the supplement will not only help boost your metabolism and nutrient intake, but also help enhance gut health and prevent the symptoms of IBS. The product is supposed to enhance the digestion of proteins, carbohydrates and fats.

Ingredients

Protease
Protease 2
Acid Protease
Amylase
Lipase
Cellulase
Glucoamylase
Invertase
Alpha Galactosidase
Beta Glucanase
Xylanase
Hemicellulase
Lactase
Bromelain
Papain
Peptidase
Aloe Vera
Senna
Digestive enzymes, such as amylase, protease and lipase break down foods into smaller components that are more easily absorbed. Enzymes are secreted throughout the digestive tract help improve digestion. The inactive ingredients in the product are Vegetable Cellulose, Microcrystalline Cellulose, Magnesium Stearate and Silicon Dioxide.

Dosage
Consult your physician before using this product to determine if this supplement is right for you especially if you are pregnant or nursing. For best results, take 1 or 2 capsules approximately 5 minutes prior to a meal. You may only need one tablet, or you may need three. You will notice that you have found the right dosage when you have healthy stools and no more gas and bloating. If you find, after three days, that there are no noticeable improvements, you should increase your dosage by an extra pill per meal, and give it at least three days to test it again. Do not take more than 6 capsules daily.
Possible Side Effects
Some people have reported upset stomach and soft stool (more frequent and softer bowel movements) when first beginning to take this supplement. As with any adverse effect, discontinue use and consult a healthcare practitioner. Do not exceed recommended dose. Pregnant or nursing mothers, children under 18, and individuals with a known medical condition should consult a physician before using this dietary supplement. This product is manufactured and packaged in a facility which may also process milk, soy, wheat, egg, peanuts, tree nuts, fish and crustacean shellfish.
Price
On the manufacturer's website, one 60 count bottle costs $29.95. There is a bulk discount. If you buy two bottles you get one free and pay $79.97 if you buy three you get three free for $119.97. Shipping is free anywhere in the US. If you use the discount code DISCOUNT15 at checkout, the manufacturer will grant you a discount of 15%.
Guarantee
You may return new, unopened items within 90 days of delivery for a full refund. The manufacturer will also pay the return shipping costs if you received an incorrect or defective item.
Conclusion of Our Ultimate Digestion Solution Review
We liked that there were incentives made by the manufacturer to encourage the consumer to buy the product, for example, the 15% first time discount, bulk ordering discounts and free shipping anywhere in the US. There is also a reasonably long 90-day product guarantee. Return shipping is free if the product is defective. On the negative side, we found the dosing instructions very confusing. The website seems to suggest there is no right dosage amount and some people might need up to 6 pills a day to see positive results which seems highly excessive and very costly considering one bottle contains 60 pills and costs $30. if you need 6 pills a day, the bottle would only last 10 days. Also, we were not encouraged that the website says some may people might require up to 60 days on the supplement to see a noticeable difference. The website had about 50 reviews and all were 5 star reviews except the last one that was a three star review. But when we looked at reviews on Amazon we saw a very different picture. Many reviewers wrote very negative comments and gave 1 or 2 star ratings saying that the product not only didn't work for them but gave very unpleasant side effects like stomach pain, diarrhea, bloating, and constipation. We say, try to find a better more reliable, better-guaranteed supplement if you need an IBS supplement.
Top investigative research brought to you by the experts at Customer Review.