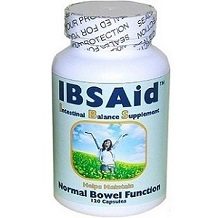 Today we are conducting a comprehensive review of IBS Aid. this product is a dietary supplement that has been advertised to reduce the symptoms associated with IBS such as chronic diarrhea, cramps, constipation, gas, bloating, and fatigue. it is said to work by addressing the cause of IBS rather than the symptoms by replenishing the natural flora within the large intestine.
Read the facts to see if this product lives up to its claims.
Ingredients
Yeast extracts – 390 mg
Maltodextrin – 66 mg
Inositol – 44 mg
These ingredients are unconventional when compared to other leading brands. Inositol resembles a vitamin substance that is naturally produced by the body, however, it is often synthesized in a lab for medicinal use because it is presumably beneficial for metabolic syndrome because it aids in improving insulin resistance and lowering cholesterol levels. We were unable to find sufficient information or evidence that shows yeast is beneficial for managing conditions such as IBS. some studies have even advised that yeast is a common trigger for IBS symptoms.
Dosage
IBS Aid advises consumers to take 2 capsules a day for 30 days in the beginning. This dose should be lowered to 1 capsule a day after the 30 days are complete. For best results, the capsule should be taken with meals.
Possible Side Effects
This product is not suitable for those who have yeast related allergies or have medical conditions such as gout. You should contact your doctor first f you are pregnant or nursing.
Price
Each box of IBS Aid contains 30 capsules and retails for $34.95. If you are taking 2 capsules a day, this amounts to 15 days of capsules. There are no discounts or bulk purchase options available for this product.
Guarantee
The products policy informs consumers that products should be returned within 30 days of purchase in order to qualify for a refund. This applies to products that have been opened and used already.
Conclusion of Our IBS Aid Review
After looking at the facts we found very few positive aspects of the product which were the guarantee albeit weaker than most and the fact that the capsules are easy to swallow. With that being said, there are a few downsides to this product that we can't ignore. The first one is that this product does not contain any supporting ingredients that provide any symptomatic relief from gas, bloating, pain or constipation. While the manufacturer has listed a few so-called studies as evidence on the website, this is not enough evidence to prove that these ingredients are beneficial. Hundreds if not thousands of studies need to be conducted before confirming that an ingredient is in fact effective. Many studies have shown that yeast aggravates IBS and triggers symptoms. Another concern is that the manufacturer states it targets the cause of IBS, to date studies and research have been unable to conclude what the exact cause of IBS is and without that knowledge, one simply cannot claim to effectively target the root of the problem. The manufacturer's website is not user-friendly and feels very out of date. We were unable to find substantial evidence from reviews and comments from end users that prove this formula has been effective for some. Based on our findings, we cannot conclude that this product is effective for managing symptoms associated with IBS.
Top investigative research brought to you by the experts at Customer Review.