Nested Naturals Super Enzymes Review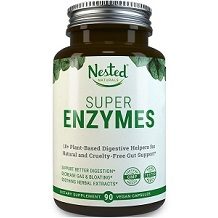 The following is a comprehensive review of Nested Naturals Super Enzymes. As the name suggests this product claims to contain a unique blend of natural enzymes which aids in digestion, absorption, rebalancing stomach acids and healing the gut. This product is geared towards those who have digestive disorders such as IBS and claims to provide symptomatic relief from bloating, gas, reflux, heartburn, and constipation.
We take a closer look at the facts to see if the manufacturer lives up to these claims.
Ingredients
Digestive Enzyme Blend – 567 mg
Amylase
Glucoamylase
Protease
Lipase
Lactase
Cellulase
Protease Alkaline
Hemicellulase
Protease
Bromelain
Papain
Peppermint – 10 mg
Ginger – 10 mg
Fennel – 10 mg
The digestive enzymes in this formula are extracted from plant-based sources such as papaya and are said to help break down foods for faster and better absorption of nutrients, however, we noticed that this product does not include any piperine which has been proven to enhance absorption and increase the bioavailability of the natural ingredients.  Ginger, peppermint, and fennel may be helpful in reducing symptoms such as gas, pain and bloating.
Dosage
The manufacturer recommends taking one capsule with water when needed. The website also advises users to take the product with each meal. These instructions are not very clear and may not deliver the relief you are looking for based on the misinformed dosage. In comparison to other leading brands the daily intake of ginger, peppermint and fennel is significantly lower and may not be potent enough to deliver effective results.
Possible Side Effects
Fortunately, this product is free of allergens however it may not be suitable if you are pregnant, nursing or have any other known medical condition. It is advisable to consult with your doctor first.
Price
A bottle of 90 capsules will cost you $27.95 if you purchase this product online directly from the manufacturer. We were unable to find any discount or bulk purchase options but it does appear to be cheaper if you purchase the product from third-party suppliers which retail the product for $24.65.
Guarantee
Nested Naturals provides consumers with a lifetime guarantee for their products. The guarantee is for users who are not satisfied with the product. We were unable to find if this applies to bottles that have already been opened and used.
Conclusion of Our Nested Naturals Super Enzymes Review
We appreciate that this product is vegan-friendly and that it comes with a lifetime guarantee, however, we still do have a few concerns. The first concern is that the product is void of any supporting ingredients that are clinically proven to enhance digestion such as piperine and while the digestive enzymes may aid with breaking down foods, we cannot confirm that they are potent enough to enhance rapid absorption as the manufacturer advertises. Our second concern is that the dosage is significantly lower when compared to leading brands and based on the unclear dosage we cannot confirm if this product will produce effective results. Another concern we found is that this product may not be very affordable in the long run because the manufacturer has not offered any discounts or bulk purchase options. There is a number of mixed reviews from end users however, it is not enough to gauge whether this product has been effective for the majority. Based on our findings, it may be in your best interest to look for products that offer higher doses and contain enough supporting ingredients to effectively reduce symptoms caused by IBS.
Top investigative research brought to you by the experts at Customer Review.