Culturelle Probiotics Digestive Health Review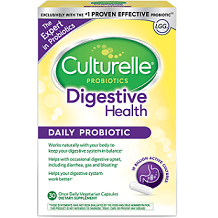 The subject of this review is for a product called Culturelle Probiotics Digestive Health. It is claimed to have been designed to work naturally with your body to keep your digestive system in balance. Furthermore, it helps with occasional digestive upset, including diarrhea, bloating, and gas. Ultimately, this daily probiotic can help support the symptoms of irritable bowel syndrome (IBS). Read our full review below to see if Culturelle Probiotics Digestive Health is an effective dietary supplement for you.
Ingredients
Inulin (Chicory Root Extract)
Lactobacillus
Hydroxypropyl methylcellulose
Sucrose
Maltodextrin
Sodium Ascorbate
Vegetable Magnesium Stearate
Silicon Dioxide
Titanium Oxide (color)
These ingredients have been combined to help the digestive system work better, along with the added prebiotic inulin. The product does not contain BioPerine for increased absorption or added nutritional benefits. This could make the product less effective. There is also no indication that the ingredients used in this product are 100% pure.
Dosage
The manufacturer suggests that users take 1 capsule per day. If one feels an occasional digestive upset then you are recommended to take 1 capsule in the morning and 1 capsule at night, until the discomfort has gone away. When traveling, one is advised to take 1 capsule in the morning and 1 capsule at night throughout the trip. For best results, start this routine 2 to 3 days prior to traveling.
Possible Side Effects
If you have a known immune-compromised condition, consult a healthcare professional prior to use.
Price
By following the instructions on the manufacturer's website, one can purchase the product online or from a local store near you. When purchasing online, one can choose from a list of re-sellers provided by the manufacturer. For a box of 30 capsules, the price ranges between $16.03 and $24.99. For a box of 50 capsules, the price ranges between $26.58 and $37.99. Not all online stores function and certain online stores do not have the product in stock. The product cannot be purchased in bulk and no discounts are offered by the manufacturer.
Guarantee
After studying the manufacturer's website and the label of the product, we were unfortunately unable to find any evidence of a money-back guarantee. First time customers will not be able to try a product and return it for a full refund when they discover it does not work for them.
Conclusion of Our Culturelle Probiotics Digestive Health Review
In conclusion, we found a few things we liked about Culturelle Probiotics Digestive Health and we also found a few things that we did not like. We liked the fact that product comes in easy to swallow capsules and also that it can be purchased from many online as well as local stores.
There were however more things we did not like about the product. Firstly, the ingredients used in this product are not 100% pure and in addition to this, it lacks BioPerine. This product helps with absorption and would make it more effective. Furthermore, the manufacturer does not offer discounts or bulk packages for purchase. Finally, the manufacturer lacks to offer a money-back guarantee. We do not recommend Culturelle Probiotics Digestive Health as an effective probiotic for IBS.
Top investigative research brought to you by the experts at Customer Review.