RezVera Stomach Protection Review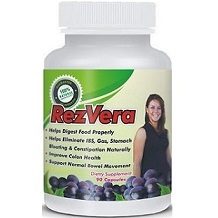 This is a review of RezVera Stomach Protection. This dietary supplement is specially formulated to improve colon health, promote bowel movement, and also improve overall digestive support. Ultimately, it can help with the treatment of Irritable Bowel Syndrome (IBS). The manufacturer claims to use natural ingredients that come from the best plant extracts. Read our review below to learn more about RezVera Stomach Protection.
Ingredients
Protease 1
Protease 2
Acid Stable Protease
Amylase
Lipase
Cellulase
Glucoamylase
Invertase
Catalase
AGS a-Galactosidase
Beta-Glucanase
Pactinase
Xylanase
Phytase
Hemicellulase
Lactase
Papain
Aloe Vera
Resveratrol
Gelatin
Magnesium Stearate
Calcium Carbonate
It contains aloe vera which helps sooth the intestinal lining, which reduces abdominal pain and discomfort. Many of the other ingredients found in this product provide the same support. The product lacks the presence of BioPerine. This ingredient helps with faster absorption and bioavailability. A lack thereof may make this product less effective. The capsules are safe for use by vegetarians and vegans due to the gelatin-based collagen and various animal by-products.
Dosage
Dosage instructions are not very clear and individuals are recommended to take 1 or 2 capsules after each meal. Instructions like this may cause an individual to take too little rendering the product ineffective or taking too much, causing an overdose.
Possible Side Effects
The manufacturer claims that there are no known side effects that are derived from the ingredients found in their product.
Price
The product can only be purchased from the manufacturer's website and not from local retail stores. A single bottle which should last a month costs $59.97. If bought on a monthly autoship, the price will then be $32.99 per bottle. If you purchase 2 bottles, you will receive 1 free bottle. The price for a single bottle is quite expensive in comparison with other probiotic products. Also, an autoship order may be difficult to stop. The manufacturer does not offer discounts or bulk orders.
Guarantee
The manufacturer provides a strong 90-day money-back guarantee on all products if you are not satisfied with the results of the product. One may return the empty bottle for a full refund. If there are any more products that are unused, one may keep it. A full refund does not include handling and shipping fees.
Conclusion of Our RezVera Stomach Protection Review
The review of RezVera Stomach Protection has left us with a clear conclusion. There are a few things that we like about the product. The manufacturer offers a strong 90-day money-back guarantee on used products if the customer is for any reason not satisfied with the results. The manufacturer also provides the user with vegetarian and vegan friendly capsules.
However, there are also a few things we do not like about the product. Firstly, the manufacturer has not added BioPerine to their ingredients list. This would make the product more effective. Furthermore, the manufacturer has provided their users with very vague dosage instructions. Lastly, the price of a single bottle is quite expensive in comparison to other products that offer the same support.  For these reasons of concern, we do not recommend RezVera Stomach Protection. Customers will be safer choosing an alternative probiotic for IBS.
Top investigative research brought to you by the experts at Customer Review.