Global Health Center VeganZyme Review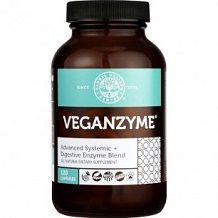 In this review we will find out if the VeganZyme product by Global Health Center does what it claims to do, that is, promote digestion & Systemic Enzyme for Healthy Digestion. The Manufacturer of this product promotes this product as a full-spectrum blend of the most powerful digestive and systemic enzymes that support digestion, boost the immune system, and encourage functional balance throughout the entire body.
Let us find out if the above claims are in fact true.
Ingredients
VeganZyme (Proprietary Blend)
Amylase
Glucoamylase
Lactase
Cellulase I and II
Maltase
Hemicellulase
Xylanase
Beta-Glucanase
Serrapeptase
Nattokinase
Papain
Alpha Galactosidase
Lipase
Catalase
Invertase
Pectinase
Phytase
Glucose Oxidase
Other ingredients in this product include vegetarian capsule and certified organic gum acacia.
The combination of ingredients found in this product are designed to promote a healthy digestive system and it does contain most of the necessary ingredients, however, if you are already suffering from digestive issues, you are likely to feel some discomfort or pain. Other leading products on the market include some important ingredients that help soothe stomach pain and discomfort such as Ginger, Aloe Vera, and Peppermint which this product seems to be lacking.
Dosage
The manufacturer suggests taking 2 capsules twice daily with food to help with digestive support If you are looking for systematic support from these tablets, take them at least 30 minutes before or 2 hours after food with a full glass of purified water.
Possible Side Effects
The manufacturer alarmingly does not mention much information other than to consult your healthcare provider if pregnant, nursing, taking blood thinners or for any additional concerns. Most other similar products on the market have at least some warnings other than to consult your doctor with the above concerns which raises some suspicion whether or not any harmful side effects may occur.
Price
The product in review costs $49.95 with no discounts available for bulk purchases. The manufacturer also offers free standard shipping to the USA or Canada which can take up to 7 business days to receive. If you prefer a faster shipping option, you will have to fork out more money for this.
Guarantee
The manufacturer offers a returns policy of 180 days if you are not satisfied with the product you can return it, even if the bottle has been opened. The manufacturer does limit the number of times a product type can be returned for example once you have purchased the product and returned it, you may not return another purchase of the same product type.
Conclusion of our Global Health Center VeganZyme Review
Overall, the product does seem good, however, there are a few things we found lacking such as suitable ingredients in the case of your stomach requiring ingredients to help relieve or soothe pain already caused by the issues that this product claims to alleviate. The guarantee policy is also a fairly strong one but the main issue we found was when conducting research on reviews customers have already left for this product, many of which complain about either the price, ineffectiveness of the product or the fact that the product is often out of stock leaving customers who have purchased the product waiting for ages to receive delivery of the item.
Top investigative research brought to you by the experts at Customer Review.