Doctor's Best Digestive Enzymes Review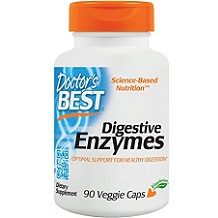 Read our review below for a product called Doctor's Best Digestive Enzymes, a dietary supplement that is intended to provide support and promote a healthy intestinal health. It contains a blend of enzymes that help digest proteins, fats and carbohydrates. The manufacturer claims that this product also has a type of bacteria that uniquely promote good gastrointestinal health.
Ingredients
Digestive Enzyme Blend:
Amylase Blend (2 strains)
Protease SP Plus Blend (4 strains)
Papain
Lactase
Phytase
Glucomylase
Hemicellulase
Lipase
Cellulase
Xylanase
Invertase
Alpha-galactosidase
Beta-glucanase
Bacillus subtilis
The enzymes included in this product are intended to replenish the levels of enzymes in the body, which promotes healthy digestion and the supply of important nutrients. They also help improve bacterial balance in the small intestines by decreasing the build up of undigested food in the large intestine.
Other ingredients: Modified cellulose
Dosage
The recommended dose is one capsule taken with each meal of as recommended by a healthcare professional.  We assume that taking it with every meal means three times a day. However, that might not be the case with some individuals as they only have two meals, and some about five meals a day. This is a concern, as some individuals might consume less or more that required.
Possible Side Effects
You are advised to consult your doctor if you have an existing medical condition or if you are on a treatment before taking this supplement.
Even though it is rare, you might experience some difficulty in breathing, swollen tongue, throat, face and lips, rashes, blistered and swollen skin, and itching if you consume enzymes. You are advised to see your doctor is you experience any of these.
Price
Doctor's Best Digestive Enzymes can be purchased online through various retailers. The price for 90 capsules varies per retailer, and ranges between $20.99 and $24.99. Discounts are available from selected retailers.
Guarantee
We searched various retailer's websites and the manufacturer's website looking for information about guarantee. However we did not find any. This is a risk, as the customer is at risk of losing.
Conclusion of Our Doctor's Best Digestive Enzymes Review
Doctor's Best Digestive Enzymes is a promising product, considering that it contains digestive enzymes. Digestive enzymes are known to be helpful in providing support to a healthy digestive intestinal health. Its price is affordable, and 90 capsules can last you for a month if you take three per day. However, we have few concerns. The dosage instructions are not very clear. It is stated that you should take one capsule with each meal. In other words, this  means that if you have one meal you will take one capsule, if you have five meals you will take five capsules a day. This puts the consumer at risk, as they may not benefit if they take too little and get sick if they overdose. It is even more concerning when considering the side effects that one might experience when taking enzymes. What makes things even worse is that the product is not backed by the manufacturer's money-back guarantee. This gives us an impression that the manufacturer lacks confidence on the effectiveness of the product, and it puts you a risk of losing money and not benefiting. Rather look for a product that is safer, with clear instructions and money-back guarantee.
Top investigative research brought to you by the experts at Customer Review.