Irwin Naturals Maximum Strength 3-in-1 Carb Blocker Review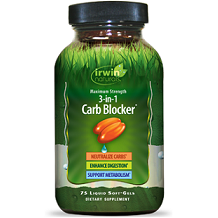 This Maximum Strength 3-in-1 Carb Blocker review scrutinizes what the manufacturer, Irwin Naturals, claims this product can do. This as the manufacturer states that the product is appropriate for individuals on high-carbohydrate diets, as it reduce the effect of starch enzymes, improves digestion, has the enzymes lipase and protease that break down fats and proteins, and supports metabolism, as it contains chromium picolinate. This is a three-pronged attack on superfluous weight.
Ingredients
The ingredients are:
Chromium picolinate (125 mcg) – This substance controls blood sugar levels, thereby reducing carbohydrate cravings
Flaxseed oil (1050 mg) – This essential fat prevents the enzyme that breaks down carbohydrates in the gastrointestinal tract.
White-kidney-bean extract (1000 mg) – This inhibits the starch-digesting enzyme amylase that would turn starch into absorbable sugar.
Cinnamon extract (100 mg) – Cinnamon is not a carb blocker, but it copies the biological function of insulin however lacking the harmful spike that can lead to fat storage.
Lipase (20 mg) – Helps to break down fat.
Protease (20 mg) – An enzyme that breaks down protein.
BioPerine complex (BioPerine black-pepper extract and ginger extract, 6 mg) – This complex helps with the absorption of the nutrients in the gut.
Other ingredients are gelatin, soy lecithin, purified water, annatto, beeswax, titanium dioxide, silicon dioxide, turmeric, and St. John's-bread.
Dosage
The producer of this supplement recommends that an adult should take 2 soft-gel capsules twice daily before eating starchy meals and snacks. This dosage should not be exceeded. What is more, it is stated that the capsules will only be effective if combined with a low-calorie diet and an exercise program.
Possible Side Effects
The maker of this carb blocker does warn that people using prescription medication or having any illnesses, for instance that of acid reflux disease or digestive disorders should check with their doctor before consuming this product.
This product is not suitable for those under 18, pregnant women, and nursing mothers.
Certain ingredients, such as soy and beeswax could lead to allergic reactions, suggesting that people sensitive to these, should avoid this product.
Although not cited by the maker, a number of ingredients, such as the white-kidney-bean extract can cause side effects, including gastrointestinal reactions, such as painful gas and diarrhea.
Lastly, as this product contains gelatin it is not suitable for vegans and vegetarians.
Price
One bottle will contain 75 capsules of Maximum Strength 3-in-1 Carb Blocker. This is available online on the manufacturer's website for $22.99. The purchase charge comprises a shipping and a handling fee. No discounts are available.
Guarantee & Feedback
In spite of our research, we were unable to find a manufacturer's guarantee. If the company does not back its product, this leaves Maximum Strength's 3-in-1 Carb Blocker's effectiveness open to question.
The reviews are mostly positive and trustworthy.
Our Conclusive Review About Maximum Strength 3-in-1 Carb Blocker
The supplement, Maximum Strength 3-in-1 Carb Blocker permits weight-watchers to cheat, by letting much loved carb heavy foods to be included in the diet. This supplement works on three diverse levels, which might lead to weight loss. A number of the ingredients in clinical studies have been found effective in what they claim to do.  The manufacturer endorses a diet low in carbohydrates and exercise: conversely, if you follow this regime, the merchandise may, in actual fact, be redundant. If the diet is effective, could the carb blocker be serving as a placebo? In addition, the absence of discounts, or guarantees, likewise raises alarms. Lastly, neither vegans nor vegetarians, nor those with soy or beeswax allergies can consume this supplement.
Top investigative research brought to you by the experts at Customer Review.