Refuze Carb Blocker Review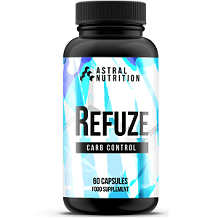 The focus of our product review in this article is a product called Refuze Carb Blocker. The manufacturer claims that their product is clinically proven to provide quick weight loss results. They state that the formula will reduce hunger cravings, boost metabolism, and regulate blood sugar levels.
Ingredients
White Kidney Bean Extract – 500mg
Vitamin C – 150mg
Guarana – 40mg
Natural Caffeine – 2.2mg
Chromium – 30mcg
The main ingredient in this product is White Kidney Bean Extract. This ingredient is used in many carb blocking supplements because of its ability to prevent the absorption of carbohydrates and help to promote weight loss. Chromium supports the benefits of White Kidney Bean Extract by working with insulin in the body to metabolize carbohydrates. Vitamin C and Guarana are supportive ingredients that aid weight loss and offer additional health benefits. Natural caffeine is known for its fat burning properties. This formula lacks Chitosan – an ingredient found in many competitor products because of its role in supporting the carb blocking process.
Dosage
Take one capsule with a glass of water 20 – 30 minutes before a carbohydrate-rich meal. Users are advised to not exceed a dosage of 6 capsules per day. The manufacturer does not indicate how many servings should be consumed for optimal results. Considering that each serving contains a mere 500mg of White Kidney Bean Extract, an additional dosage will be required. The low dosage may not deliver results that competitor products do.
Possible Side Effects
Provided that you stick to the directions of usage, Refuze will not give you any negative side effects.
Price
You can purchase this product online from the manufacturer's store where a bottle of 60 capsules costs $31.95. There are some bulk-buying discounts available on the company website. Shipping for all orders is free in the UK, US, and Canada.
Guarantee
The manufacturer offers a 30-day money-back guarantee minus the cost of shipping and minus a small handling fee of around $7.50.
Conclusion of Our Refuze Carb Blocker Review
There are a few positives about this product. The manufacturer offers a 30-day money-back guarantee and the formula contains beneficial ingredients common to effective competitor products. If taking only one capsule a day, this is a well priced product at $31.95 for a 2 month month supply of capsules. There is free shipping in the U.S, Canada and the U.K. The are bulk buying discounts provided by the manufacturer. If taking 2 or more capsules per day, this is no longer so cheap to buy. The guarantee only allows unused products for return, is too short at 30 days only, and any refund excludes the cost of return shipping and a handling fee of around $7.50. There are insufficient customer reviews on this product, and those that do review it are largely negative. There is no assurance that the product is free from GMO ingredients, that it does not contain fillers and binders, and that it is suitable for vegans and vegetarians. Therefore, we recommend that you seek a more proven and supported weight loss supplement with a longer guarantee, better price, and more potent active ingredient.
Top investigative research brought to you by the experts at Customer Review.