Arazo Nutrition White Kidney Bean Extract Review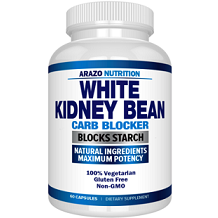 Arazo Nutrition has designed a carb blocker formula that is comprised of the white kidney bean extract to promote weight loss. This formula is supposedly for people who enjoy eating a high carb diet and don't want to gain the weight.
In this review of Arazo Nutrition White Kidney Bean Extract, our goal is to provide you with all the information you need before deciding to purchase this product.
These are the facts:
Ingredients
White Kidney Bean (Phaseolus Vulgaris) Extract – 600 mg
Other Ingredients
Vegetable Cellulose
Rice Flour
Magnesium Stearate
White Kidney Bean Extract is known to prohibit the amylase enzyme from breaking down starch, which inhibits the starch from being absorbed but is passed through the body with ease instead. While the kidney bean extract is a commonly used ingredient that promotes weight loss, research shows that optimum results are usually obtained when combined with Chromium and Chitosan, which is not found in this formula.
Dosage
Arazo Nutrition recommends taking 1 capsule immediately before eating each of your two largest meals. Based on the lower dosage that this product suggests, optimum weight loss results may not be obtained.
Possible Side Effects
This product is not suitable for women who are pregnant or persons who are suffering from liver, kidney or any other endocrine disease. This product should be used in conjunction with a healthy lifestyle and regular exercise.
Price
Each bottle of White Kidney Bean Extract contains 60 capsules which are roughly a month's supply. This product retails for $15.95 online and can be purchased directly from the manufacturer or on third-party retail sites. There are promo codes available for this product if you purchase 2,3 or 4 bottles. Depending on which option you select, you will get up to 20% off on the retail price.
Guarantee
There seems to be a 100% satisfaction guarantee logo printed on the product, however, we were unable to find any details about this satisfaction guarantee and cannot confirm if refunds will be provided to those who are not satisfied with their product.
Conclusion of Our Arazo Nutrition White Kidney Bean Extract Review
We appreciate the fact that this product is natural and does not contain any allergens, we also like the fact that it is competitively priced, however, cheaper products do not always mean that you are guaranteed to get results. We were disappointed to find that this product does not contain any Chromium or Chitosan and feel that it might not be as effective in maintaining a healthy weight. In addition to that, this product contains fillers which may reduce the quality and potency of the kidney bean extract. We are also disappointed that Arazo Nutrition failed to provide any information about its satisfaction guarantee policy. We do not have much confidence in this formula based on these facts and in conclusion to this review, we advise you to look at alternative products.
Top investigative research brought to you by the experts at Customer Review.