Absolute Nutrition C Block Review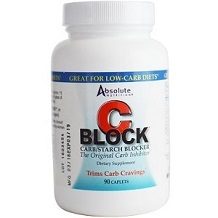 Today we review Absolute Nutrition C Block. By maintaining your metabolism, this supplement helps to inhibit the absorption of carbohydrates into your body. Without these extra carbs, your body will burn fat, causing you to lose more weight.
Ingredients
Every two capsules is considered one serving. Each serving only contains 200 mg of Chromium and 700 mg of White Kidney Bean extract. Clinical studies have shown that both white kidney bean and chromium should be used in daily doses of 1000 mg. With neither of these ingredients reaching that mark, it shows this supplement may be less effective.
Dosage
As stated above, one serving of this product is two capsules. This dose should be taken 15 minutes before a starchy meal with a large glass of water. It is safe to take up to three doses per day. If you take three doses per day, you not only still do not reach the 1000 mg of Chromium, but you far exceed the scientifically recommended 1000 mg of white kidney bean extract.
Possible Side Effects
If you are pregnant or nursing, you should check with your healthcare provider before adding this supplement to your daily regimen. While we found no listed side effects, either company listed or customer reported, there were many negative customer reviews stating how this supplement was a complete waste of money and did not work.
Price
We were unable to find the manufacturer's website to attempt to buy this product direct from them. Instead, we found multiple third party sites that had this supplement listed for sale. The manufacturer's suggested retail price for a bottle of 90 capsules is $29.79, but is on sale through one of the third party site for only $19.82. Amazon, however, has it for sale for only $10.92.
Guarantee
As we were only able to find information regarding this product on third party retailer sites, we are unaware if the manufacturer offers any type of refund on their product. We do not have any contact information for the company either, which means you will be stuck with the refund policy from your chosen third party. Since these policies are typically extremely strict, if you find yourself unhappy with your purchase, you may still be unable to request your money back.
Conclusion of Our Absolute Nutrition C Block Review
There are a few things we liked about Absolute Nutrition C Block. This supplement does contain chromium and white kidney bean extract which are both proven ingredients to help stop the absorption of carbs into your body. Also, the price of this supplement, even though vastly different depending on your third party retailer, is quite cheap.
Unfortunately we have many concerns in regards to this product. First of all, the amounts in each capsule of the main ingredients are off, making this supplement less effective. Next, many customers reported that this supplement did not work at all. These customers saw no change in their weight, even after trying the supplement for multiple months. Lastly, as we found no real information about the actual manufacturer, we also found no money back guarantee. For these reasons, we cannot recommend this supplement to help you reach your weight loss goals.
Top investigative research brought to you by the experts at Customer Review.