BioGanix Pure White Kidney Bean Extract Review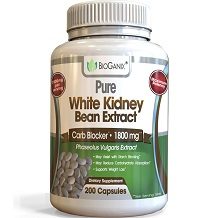 This is a review the BioGanix product Pure White Kidney Bean Extract. The company that makes this supplement claims that this supplement may help to block starch and lessen the absorption of carbohydrates, in that way helping weight loss. Additionally, there is the statement that this supplement may help with digestive difficulties.
Ingredients
There is only one active ingredient in the formula, namely white-kidney-bean extract (600 mg per capsule). This element diverts starches, but also blocks carbohydrates from being absorbed. The consequence is that carbohydrates are prohibited from being transformed to fat. White kidney beans contain fibre, which assist to decrease dietary fat and can help with hindrance of cholesterol absorption.
Other ingredients are vegetable cellulose, rice flour, and magnesium stearate. Although the manufacturers state that no fillers are used in this formula, it does contain a bulking agent, namely, rice flour. In addition, the maker does not state if the magnesium stearate is derived from a plant or animal source.
Dosage
It is recommend by the manufacturer that 3 capsules (1800 mg) be taken each day just before the two largest meals. Otherwise, the instructions of a health care provider should be followed. However, you may not exceed six capsules daily.
Possible Side Effects
The company warns that pregnant women and breast-feeding mothers, also youngsters, should not use this supplement. What's more, those on prescription medication, or those with medical concerns should first chat to their health care provider before consuming this supplement.
Price
A bottle of 200 capsules, of Pure White Kidney Bean Extract, is accessible online on the manufacturer's website at $21.97 (a 66-day supply). The manufacturer offers no discounts on bulk purchases.
Guarantee & Feedback
The manufacturer of this supplement does offer a full money-back guarantee. However, this promise is only binding for 60 days from the date of procurement. Furthermore, a justification must be emailed to the business stating the reason of unhappiness before a refund will be given. The concern is, however, silent on whether the shipping fee will be reimbursed.
Our research also under covered that the customer reviews are of high quality. This with 80% of these reviews can be described as high quality, with minimal deception.
Our Conclusive Review About Pure White Kidney Bean Extract
The supplement, Pure White Kidney Bean Extract, is an all-natural product made from an ingredient known to work as a carbohydrate blocker. The carb blocker also comes with a full money-back guarantee and a free sample is permissible. The product, if futile, may be given back for a full refund. Negatives include no bulk markdowns. Long-term cost of this merchandise will be greater than cost of other, comparable products on the market. The capsules are gelatin free, therefore acceptable to vegans. However, it is unclear if the magnesium stearate is also vegan friendly. In addition, the bulking agent, namely, rice flour, adds no significance to the capsule. Lastly, the ideal dose is three capsules, while other, comparable carbohydrate blockers give a matching dose in less capsules. A product requiring the taking of less capsules may be favored.
Top investigative research brought to you by the experts at Customer Review.