Research Verified Carb Blocker Review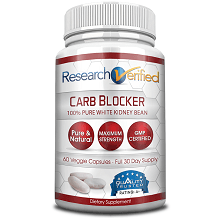 Obesity is rife in today's society. With our busy lifestyles and our easy access to fast food, it can be very difficult to lose the extra weight and it takes a lot of dedication and commitment. There is a type of weight loss supplement on the market made from white kidney beans which are known to block the absorption of carbohydrates by the body. It has been seen that even those not on a diet who take white kidney beans have been found to lose weight similar to that of reducing calories. With so many of these kinds of products on the market, it is important to find one that will actually be effective and safe to use. Our review is for a product we found called Research Verified Carb Blocker. This product uses a formulation that is based on scientific research. It matches the exact formulation used in a clinical trial that was found to produce positive results. Research Verified has provided a link to this study on their website. As well as being based on scientific research, this supplement is also produced in an FDA-registered and cGMP-certified facility.
Ingredients
White Kidney Beans – 1000mg
Chromium – 1000mcg
Chitosan – 600mg
White kidney beans have been shown to prevent the absorption of carbohydrates by the body by inhibiting the enzyme amylase. These undigested carbohydrates are then excreted by the body and their calories are not absorbed. As a large portion of our daily diet consists of carbohydrates, this is a good way to decrease the number of calories absorbed by the body which should result in weight loss. Chromium and chitosan are important for the white kidney bean extract to be absorbed by the body.
Research Verified's product does not contain any preservatives, binders or fillers.
Dosage
It is recommended to take two capsules a day. You should take one capsule, twice a day, 30 minutes before meals and with a full glass of water.
Possible Side Effects
This product is made from only natural ingredients and is also tested for purity and quality which is a prerequisite for all Research Verified products as seen in this Research Verified brand review. As such, there are no known side effects associated with this product. However, those with any underlying medical conditions, as well pregnant and nursing women, should consult their doctor before taking this supplement.
Price
Research Verified sell this product online directly from their website or from Amazon. They have a few purchasing options allowing you to buy in bulk and save money. You can buy one bottle for $48 which is a one-month supply. You can also buy a package consisting of three bottles for $98, saving you $111.85, or a package consisting of six bottles for $142, saving you $277.70.
Guarantee
Research Verified's guarantee is a very rare find in this industry. They offer you a whole year to decide if you are happy with the results of the product. If you are not happy with the results, you can return both opened and closed bottles for a refund.
Conclusion of Our Research Verified Carb Blocker Review
This seems to be an excellent product to try out if you are wanting to lose weight. As it is based on a study that showed positive results, you can rest assured of buying an effective product. However, if you are not happy, Research Verified offers an excellent money-back guarantee. This shows the value they place on their customers. It also shows that they are confident in their product. We believe that if a manufacturer is confident in their product, then it is definitely a product worth trying.
Top investigative research brought to you by the experts at Customer Review.