BioScience Nutrition White Kidney Bean Carb Blocker Review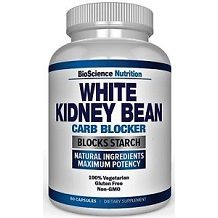 In this review we focus on the supplement White Kidney Bean Carb Blocker. The manufacturers claim that this supplement intercepts the absorption of carbs, starches and fats. This prevents such foods from being broken down and converted into either fats or sugars, or from being digested. It is claimed that this supplement can help weight loss, and also that it reduces hunger and suppresses appetite.
Ingredients
The only active ingredient is White Kidney Bean Extract (600mg) – the white kidney bean (phaseolus vulgaris) is known to accelerate weight loss. It acts as a starch blocker, inhibiting the starch-digesting enzyme amylase that converts starch to absorbable sugar.
Other inactive ingredients are vegetable capsules, rice flour, and magnesium stearate. The manufacturer makes no mention of whether the magnesium stearate is derived from vegetable or animal sources; however, the rice flour is a mere bulking agent and offers no other value.
Dosage
The manufacturer of this supplement directs that 2 capsules be taken before the largest meals each day. For optimal results, these supplements should be taken 20 to 30 minutes before a meal with 8 ounces of water. Alternatively, follow the instructions of your health-care provider. You should not take more than 4 capsules per day.
Possible Side Effects
The manufacturer of this product warns that this dietary supplement is not suitable for those who are pregnant, have a history of liver, kidney, or prostate disease or endocrine conditions. In addition, if you are on any prescribed medication or have any other medical condition, you should consult your doctor before taking this supplement.
Price
Depending on which third-party site you buy The White Kidney Bean Carb Blocker, the purchase price can range from $15.92 to $22.23. Either way, no discounts are available.
Guarantee & Feedback
The return policy for this product, for instance on Ebay, is 30 days from the date of purchase. The product should be returned unused. Therefore, a free trial is not allowed. Consumer reviews are normally a good indicator of other people's experiences of a product. From our research, however, we found that the reviews on this product are only 79.8% reliable, with 20.2% being of low quality, and unreliable, if not outright deceptive.
Our Conclusive Review On BioScience Nutrition White Kidney Bean Carb Blocker
At face-value BioScience Nutrition White Kidney Bean Carb Blocker seems a useful product for weight loss, or simply to maintain a good weight. It contains an active ingredient known to give results, and the instructions are clear and easy to follow. On the downside, there is a lack of a guarantee. This dietary supplement is not subject to free testing. Reviews are available, however, some 20% of these reviews are questionable, raising some doubts. No discounts are available on bulk purchases. This would have reduced the cost to the consumer, especially for those taking this supplement over a long period.
Top investigative research brought to you by the experts at Customer Review.