Nature's Way White Kidney Bean Review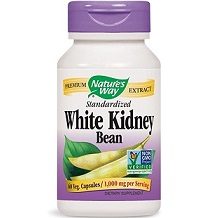 This is a full review of Nature's Way White Kidney Bean to provide you with all the facts you need to know. Nature's Way has developed an all-natural carb blocker formula that is comprised of white kidney bean extract to assist you in losing weight.  This product is said to work by using a phase 2 carb controller that reduces the digestion of carbohydrates.
Ingredients
Phase 2 Carb Controller
White Kidney Bean Extract (Phaseolus vulgaris) – 1000 mg
Other Ingredients
Plant-derived capsule (hypromellose)
Cellulose
How white kidney bean extract works is that it inhibits the alpha amylase enzyme from breaking down carbohydrates. This then prohibits the starch from being absorbed by the body, ensuring that it is passed through the body instead. While white kidney bean could potentially help with weight loss, research shows that using a formula that combines the extract with Chromium and Chitosan will ensure that you get optimum results. We are disappointed to find that this formula does not contain any of these key elements which leave us questioning the effectiveness of this product.
Dosage
Nature's Way advises consumers to take 2 capsules a day before meals and with water. The values in the ingredients above are based on a serving size of 2 capsules. This dosage seems to be on par with other leading brands, however, without the Chromium and Chitosan, we cannot confirm that this dose alone will be effective enough for the desired results.
Possible Side Effects
This product is not suitable for women who are pregnant or breastfeeding and it is always advisable to consult a doctor first if you have any medical conditions. Fortunately, this product does not seem to contain any allergens such as wheat, soy or dairy and is considered safe for those who have allergies.
Price
Each bottle of White Kidney Bean contains capsules and retails for $10.00 to $16.00 depending on where you purchase the product from. This product is not available for purchase directly from the manufacturer which means there are no discounts or bulk purchase options available. You would need to do a price comparison in order to get the cheapest rate.
Guarantee
Unfortunately,  both the manufacturer's website and product bottles have not listed any satisfaction guarantee. This lack of guarantee is certainly a cause for concern when it comes to providing confidence in the product's formula.
Conclusion of Our Nature's Way White Kidney Bean Review
We appreciate the fact that this product is free of allergens and that it does not have any known side effects, however, we are still skeptical that the ingredients in this formula are potent enough to produce the desired results. We were unable to find many reviews from end users about this product which leads us to believe that it is not very popular. When looking at the guarantee, we feel that it is always best to look for products that offer a satisfaction guarantee to avoid the risk of losing money if you find that this product is not effective.
Top investigative research brought to you by the experts at Customer Review.