Keo Spark Carb Blocker Review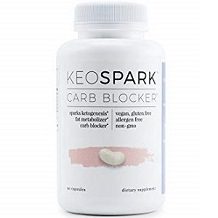 Today we review Keo Spark Carb Blocker. Selected by a team of medical professionals, this supplement claims to provide ingredients proven to block the carbs you eat to enhance fat burn and increase your metabolism. By burning more fat for fuel, your body will start to lose weight.
Ingredients
Thiamin
Vitamin B6
Vitamin B12
Choline
Chromium
KEO Bean White Kidney Bean Extract
L-Methionine
The best carb blockers on the market offer 1000 mg of White Kidney bean extract with 1000 mg of chromium per daily serving. Each capsule of this supplement only offers 333 mg of Keo Bean and 200 mg of chromium. Without the proper amounts of these extracts, this supplement will be less effective at helping you reach your weight loss goals.
Dosage
Three capsules should be taken, but spread out throughout the day. One should be taken at breakfast, lunch, and at dinner. Each capsule should be taken with at least 16 ounces of water. By taking three capsules daily, you will reach the the daily recommended amount of white kidney bean extract, but not of chromium. This shows this supplement will be less effective than its competitors.
Possible Side Effects
This supplement had no listed side effects or warnings. This is concerning, as even the safest dietary capsules have simple warnings, like whether or not you can take a pill while pregnant, or what ages are able to safely consume the supplement. Without even these warnings, it seems the manufacturer has something to hide.
Price
Each bottle contains 90 capsules, which if taken regularly, will last for only one month. One bottle costs $39.99, and free shipping is included. If you chose to subscribe to the company's auto-shipment program, you can save 10%, bringing the price to only $35.99. It is important to be weary of these type of subscription programs, as they store your credit card information and can be extremely difficult to cancel, resulting in additional charges you did not authorize.
Guarantee
While the company claims to offer a 90 day money back guarantee, looking at the fine print, it shows that a refund is only available for unopened products in their original packaging. Refunds will also not include the cost of shipping, only the cost of the purchase price. If you open your product, you will no longer be eligible for a refund.
Conclusion of Our Keo Spark Carb Blocker Review
There are a few things we liked about Keo Spark Carb Blocker. The daily dosage of these capsules do provide the clinically recommended 1000 mg of White Bean Extract needed per day. Additionally, even though there is not enough, these capsules do contain some chromium.
Unfortunately, we had many concerns in regards to this product. Like stated above, there is not enough chromium per capsule to allow this supplement to be fully effective. Also, the manufacturer seems to be hiding something by not listing any health warnings. Next, the price of this supplement is quite high, even with the discount for auto-shipment. Lastly, the money back guarantee is only available for unopened packages, not those that have actually been used. For these reasons, we cannot recommend this supplement to help block carbs from your diet and allow you to reach your weight loss goals.
Top investigative research brought to you by the experts at Customer Review.