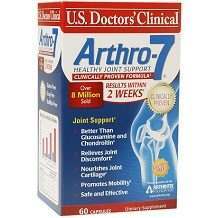 Made in the USA, Arthro-7 is a supposedly clinically-proven dietary supplement for joint health. It is said to promote joint lubrication and mobility while also restoring joint comfort. Benefits include nourishment of joints and repair of worn or damaged joint cartilage. The product is made with ingredients that are considered both efficient and safe. Read our Arthro-7 review below to know more before buying.
Ingredients
The proprietary blend that makes up this product features seven ingredients, namely:
• MSM
• Collagen (chicken source)
• Bromelain
• CMO
• Turmeric
• Lipase
• Vitamin C
These ingredients help to nourish the joints and enhance connective tissues and cartilage. MSM, also known as methylsulfonylmethane, is a natural source of sulfur and is essential for formation of support structures. Bromelain, a pineapple plant extract, is considered more powerful than many painkillers for joint pain. Vitamin C fights free radicals and promotes production of collagen, a major support of joint structures.
Dosage
You are to take two capsules of Arthro-7 two times a day for the first 1-2 weeks, known as the loading phase. The dose can be cut down to two capsules per day afterwards. The manufacturer says you may begin to see results in just two weeks.
Possible Side Effects
Arthro-7 is an all-natural product, according to its producer so it should be safe to use. There were no cases of significant side effects found while researching for this review. But to be on the safer side, it is advised that pregnant women and lactating mothers should not use the supplement before speaking to a doctor. You should also seek medical assistance if you notice discomfort (strange sensation) after starting to use.
Price
A 60-capsule bottle of Arthro-7 sells for $34.99. Note that this is not a month supply if you are using the supplement for the first time. Considering suggested initial daily dosage, you will need 90 capsules in the first month of treatment. Shipping and handling charges are not included in the price and those amount to about $13.
Guarantee
You get a 60-day money-back guarantee when you buy Arthro-7. There is opportunity to ask for a refund if you are not convinced by the results you get within 60 days. But note that you won't be able to get your money back for used product from the second month. Only the first-month supply is risk-free. You only get a refund for unused pills on subsequent orders. More information on the money back guarantee can be found on the official product page.
Conclusion of Our Arthro-7 Review
In all, Arthro-7 has some ingredients, such as MSM and turmeric, known to help with joint health. It is also made in a US facility approved by the FDA and compliant with current Good Manufacturing Practice (cGMP) guidelines. But we think the price is high and the money-back guarantee is a overly complex. You should be able to find other products with more beneficial ingredients at this price, or even less.
Top investigative research brought to you by the experts at Customer Review.