BodyTech Arginine AKG Review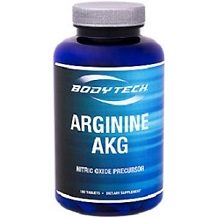 Read our review below about Arginine AKG. Arginine AKG claims to increase the body's insulin levels, which in turn will increase muscle growth and strength gains. It also increases nitric oxide which makes blood vessels expand.
Ingredients
Calcium – Helps muscles to contract.
L-Arginine alpha-ketoglutarate – Helps the body to build muscle and increase endurance, strength and size.
Other inactive ingredients in this formula are glycerin, microcrystalline cellulose, hydroxypropylmethyl cellulose, croscarmellose sodium, stearic acid and magnesium stearate.
When looking at Arginine formulas for optimal bodybuilding benefit and muscle growth, the L-arginine blend should contain AAKG, AKIC, MONO & MALATE for increased vasodilation and blood flow. Another key amino acid that is of importance in an Arginine formula, that is not featured in Arginine AKG, is L-citrulline. This should be included for added nitric oxide production.
A formula that contains beetroot also provides high levels of nitrates that can be converted into nitric oxide, which is clinically proven to be effective for maximizing exercise duration and intensity. This product does not contain beetroot. It lastly also doesn't contain a supportive synergistic herbal blend with ingredients such as Pine Bark, Bullhead, Fenugreek, Avena Sativa, Eurycoma Longifolia and Quercetin. All of the above-mentioned ingredients are important in order to build lean body mass and to boost testosterone levels.
Dosage
Three tablets should be taken twice daily. The ideal time to take the supplement would be on an empty stomach in the morning and again half an hour before lunch. At least 64 oz. of water should be consumed daily when taking this formula.
Possible Side Effects
A healthcare provider should be consulted if you want to use this formula while you have any medical conditions, are taking any medication or if you are nursing or pregnant.
Price
This product can be purchased online for $29.99. It doesn't seem like there are currently any trial options or discounts available.
Guarantee
After doing a lot of research, we couldn't find any information with regards to the manufacturer offering any kind of satisfaction guarantee, although most online shops that sell the product does offer some kind of return policy.
Conclusion Of Our Arginine AKG Review
After reviewing Arginine AKG we found that the product could possibly increase muscle growth and strength gains.
If you are looking for the optimal ingredients for bodybuilding benefits and muscle growth, be sure to look for a formula that contains a L-arginine blend with AAKG, AKIC, MONO & MALATE for increased blood flow and vasodilation. These types of formulas should also contain L-citrulline for added nitric oxide production. Arginine AKG does not contain any of these essential ingredients.
Other ingredients that are quite essential are beetroot, Bullhead, Pine Bark, Avena Sativa, Fenugreek, Quercetin and Eurycoma Longifolia. These ingredients are needed to boost testosterone levels and build lean body mass. Beetroot specifically provides the body with high levels of nitrates that can be converted into nitric oxide, which is effective for maximizing exercise intensity and duration.
Top investigative research brought to you by the experts at Customer Review.