Ronnie Coleman Stacked N.O. Review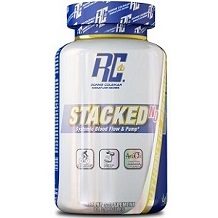 Today we are reviewing a product called Ronnie Coleman Stacked NO. Ronnie Coleman Stacked NO is designed to increase levels of nitric oxide in the blood and help improve blood flow to your muscles during workouts.
Ingredients
Vitamin B12
L-citrulline
Agmatine Sulfate
L-ornithine
Alpha hydroxy leucine
Astragalus membranaceus
Panax notoginseng
Ornithine is a non proteinogenic amino acid that plays a role in the urea cycle. L-Ornithine also has an anti fatigue effect in increasing the efficiency of energy consumption and promoting the excretion of ammonia. Nitric oxide is produced from an amino acid called arginine. Other amino acids like ornithine and citrulline can be converted to arginine. Niacin and vitamin B12 are included to support this process. These vitamins help enzymes to perform their function. The capsules contain gelatin therefore making this supplement unsuitable or vegetarian or vegans.
Dosage
Take this supplement 30 minutes before your workout. On days when you are not training take it first thing in the morning instead. If you weigh less than 185 lbs take three capsules per serving, if you weigh over 185 lbs, take six capsules. It os not clear what the maximum daily dosage isnor if you should take it with food or drink.
Possible Side Effects
There are no warnings or side effects mentioned on the company website or product label.
Price
You can purchase a bottle of 90 capsules online for $27.99 plus flat rate shipping of $5.99. The manufacturer offers a subscription option where you can save 22% ($6.16) on your first two orders and 18% ($5.04) on all orders after that when subscribing. There is free shipping when you spend over $49. There is a spinning wheel of special offers that provides a selection of different special offers including discounts on purchases, gift cards and more.
Guarantee
There is a manufacturer's guarantee whereby you can return unopened products within 30 days for a full refund. You are responsible for return shipping costs. You can return opened products for store credit but not a refund within 30 days of purchase.
Conclusion of Our Ronnie Coleman Stacked NO Review 
We have mixed feelings about this supplement, there a few things we liked and more aspects that let it down. The supplement contains some helpful ingredients that should provide benefits for pre-workout stamina building and energy sustenance. There are discounts available when you subscribe to recurring shipments. There is a return policy that is good for 30 days and provides a refund if you return unused bottles of capsules. You can also get a store credit if you return opened bottles of capsules. Some of things that disappointed us are the limited guarantee policy that only covers unopened bottles (for refund). The dosage instructions are weak and don't explain when and how to take the capsules nor what the maximum daily dose is. We also could not find warnings or side effects explained on the website. The supplement is quite costly at $28 per bottle for a one month supply of capsules, and only comes with free shipping when you spend $49. The product contains gelatin, and is therefore unsuitable for vegetarians and vegans. We suggest you look for a better priced supplement, with clearer dosage and side effect information, and one that allows you to return opened bottles of capsules for a refund.
Top investigative research brought to you by the experts at Customer Review.