MRI Performance NO2 Red Extreme Review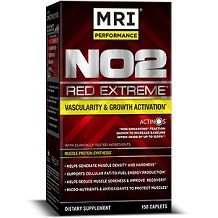 This MRI Performance NO2 Red Extreme review gives potential customers all the information they need to know in order to decide whether this product is for them or not. NO2 Red Extreme is a dietary supplement that is meant to boost energy levels during workouts. It is also supposed to help athlete's and bodybuilders build muscle easier.
Ingredients
NO2 Red Extreme has a long list of active ingredients:
Vitamin A
Vitamin D3
Folic Acid
Vitamin B12
Calcium
Zinc
Vitamin B3
Vitamin B6
Magnesium
MRI NO2 Proprietary Blend which includes:

Advanced 5x NO Booster Matrix
MyoCarn Power Complex
Dihydroquercetin
It is difficult to go into detail about each ingredient, with such a long list. Therefore, we will highlight the ones that seem the most important for this product. The nitric oxide booster is one of the ingredients the manufacturer highlights on their website. Nitric oxide is responsible for cell communication in the body. Nitric Oxide helps muscles recover faster, allowing for better and more intense workouts. This product also contains L-Carnitine; although, it is not listed among its active ingredients. L-Carnitine is used to increase energy levels and reduce muscle soreness.
Calcium, Vitamin C, magnesium, and zinc are important nutrients for body building. Calcium improves muscle contraction and energy levels. Vitamin C burns carbs to give the body energy, as well as protects the body from stress. Magnesium reduces fatigue and zinc helps the body recover faster after workouts.
Dosage
Adults should take three capsules in the morning. Take them on an empty stomach 30 minutes before breakfast. For those who want maximum results, take two more capsules in the early afternoon.
Possible Side Effects
There are no associated side effects with this product. However, the following warnings are included on NO2 Red Extreme's label:
Individuals with high blood pressure, cold sores, or other medical conditions should consult a medical professional before taking this product.
Individuals taking prescription medication should consult a medical professional before taking this product.
Do not use this product if allergic to milk, corn, citrus fruit, or arginine.
Pregnant and nursing women should not use this product.
Individuals under 18 should not use this product.
Do not take more than the recommended dosage.
Price
NO2 Red Extreme can be purchased through the manufacturer's website. A 150-capsule bottle costs $69.99. It is also sold through third-party websites, such as GNC and Amazon. While it is currently unavailable on Amazon, GNC offers a 150-capsule bottle for $69.99.
Guarantee
The manufacturer has a tab titled "money-back" on their website. However, there is currently no information about their return policy on this tab. It is unclear whether the manufacturer is changing their return policy, or if they no longer allow returns. Customers with concerns, questions, or complaints will have to contact the company directly.
Conclusion of Our NO2 Red Extreme Review
NO2 Red Extreme seems to be an okay muscle building product. While there are not many customer reviews, there are some and most of them are positive. Most customers feel a difference in their energy levels and claim they are able to complete difficult workouts. There are no side effects associated with this product. Although, some customers suggest beginners take one tablet instead of three at first. Unfortunately, it is unclear whether the manufacturer has a return policy or not. There are other good products on the market that do come backed with money-back gurantees.
Top investigative research brought to you by the experts at Customer Review.