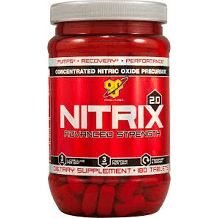 A product of BSN, Nitrix 2.0 is a pre-workout supplement that boosts the level of nitric oxide in the body. It is said to contain key ingredients that ramp up nitric oxide production substantially. These promote improved muscle pumps, mass and vascularity. Nitric oxide purportedly enhances your endurance and reduces recovery time, eliminates harmful substances from your muscle tissue and improves the amount of oxygen in your body. It helps your muscles to recover faster and enhances cardiovascular performance. That's a lot to live up to for one product. Does BSN Nitrix 2.0 do so? Find out in our review below.
Ingredients
This workout performance enhancer features a blend of the following active ingredients:
• L-Citrulline
• Niacin
• Hawthorn extract
• Pomegranate fruit
• Grape seed extract
• Trans-resveratrol
• Pterostilbene
• Red pepper fruit extract
• Black pepper fruit extract (BioPerine)
• Creatine HCI
L-Citrulline is a known potent nitric oxide booster, especially notable for its continuous recycling and production. Niacin and hawthorn extract support cardiac health and cardiac function during workouts. Creatine HCI enhances the production of adenosine triphosphate (ATP), giving you an energy boost. Rich in antioxidants and essential nutrients, pomegranate offers workout-related benefits and facilitates nitric oxide balance. Red pepper extract helps with fat burning, while grape seed extract enhances circulation as well as muscle oxygenation and nourishment. Trans-resveratrol helps to burn body fat to generate energy. Black pepper extract improves absorption of nutrients present in Nitrix 2.0.
Dosage
You are to take three pills of this dietary supplement two times daily, according to the manufacturer. Ideally, you should take the first dose an hour before workouts and the other afterwards.
Possible Side Effects
The product appears to be safe to use, at least when you abide by the recommended dose. You may experience stomach disturbances if you use inappropriately. BSN advises that women who are pregnant (or trying to be) or nursing should not use Nitrix 2.0. Individuals sensitive to niacin or under 18 years of age are also not to take it. People with existing medical conditions need to first speak with a physician before use.
Price
The cost of a bottle of Nitrix 2.0, which contains 90 pills, varies. You can pay anywhere from $27 to $40 for a bottle depending on where you are buying it. So it pays to shop around. The cheaper prices are available online. You can also get the supplement in a 180-tablet bottle. At the time of our review the 180-count bottle was available on Amazon for $54.99.
Guarantee
We were unable to find a money back guarantee from the manufacturer even though the company sells this product directly to consumers.
Conclusion of Our BSN Nitrix 2.0 Review
Looking at its ingredients, this is a decent nitric oxide booster and pre-workout supplement. We saw users reporting pump and recovery benefits from usage. The absence of the amino acid L-Arginine, included in many competitive products, leaves something to be desired though. Some users also complain about the size of the pills. If you are the type that loves having money back guarantee on your purchases, then Nitrix 2.0 doesn't look like an ideal choice for you.
Top investigative research brought to you by the experts at Customer Review.