Genuine Health Fast Joint + Care Extra Strength Review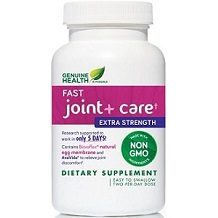 Today we are reviewing an all-natural remedy for joint pain called Fast Joint + Care Extra Strength by Genuine Health. The maker's of this product claim that it will provide fast, effective relief from severe joint discomfort in as little as 5 days. What makes Genuine Health different from many other joint supplements is that it relies on a formula of bromelain, avovida, and natural eggshell membrane to relieve pain, and reduce inflammation.
Ingredients
Bromelain – 200 mg
Avovida – 300 mg
Natural eggshell membrane – 450 mg
Other ingredients:
Hypromellose
Magnesium stearate
Rice flour
Silicon dioxide
The primary ingredient is natural eggshell membrane. It promotes joint health, flexibility, and strengthens bone structure and surrounding tissues to withstand wear and tear. According to Genuine Health, compared to glucosamine, eggshell was shown to be five times as likely to reduce pain by more than 50%. Avovida is a proprietary blend made from avocados and soy seed. Bromelain comes the stem of the pineapple fruit, and can reduce swelling and inflammation. Manganese aids in the formation of connective tissue, bones, blood-clotting factors. Methylsulfonylmethane is used to treat arthritis or osteoarthritis/degenerative joint disease since it helps form connective tissue and repair joints, tendons and ligaments.
Dosage
Take two capsules per day at any time of day either with or without food.
Possible Side Effects
Consult a healthcare practitioner prior to use if you are pregnant or breastfeeding, taking any medications or have a medical condition. Product contains soy and egg, and trace pineapple, so do not use if you are allergic to any of these ingredients.
Price
On the manufacturer's website, one 60 capsule bottle (30-day supply) costs $34.99 plus shipping. There were no new customer nor bulk buying discounts offered on the manufacturer's website.
Guarantee
There is a money back guarantee but it only applies to unopened products and is only good for returns within 30 days of the purchase date. Return shipping is the responsibility of the consumer.
Conclusion of Our Genuine Health Fast Joint + Care Extra Strength Review
Among the positives that we have about this product are that it contains some powerful natural ingredients that may have some significant benefits for people suffering from joint pain and inflammation. The product has a thirty day return policy. We also have a number of not so positive comments about this product. The product is pricey at $34.99 plus shipping. There were no new customer nor bulk buying discounts on the manufacturer's website. The manufacturer's claims that you will start to feel relief in 5 days is overly optimistic based on the reviews that we read, and in cases where joint pain is more severe, it is likely to take months before you feel relief. The return policy is only good for 30 days and in our opinion is too short to allow you enough time to know if the product is effective or not. The return policy doesn't cover opened bottles of pills and requires you to pay return shipping. This product is not FDA registered, nor made in a GMP certified laboratory. We suggest that when looking for a joint pain supplement you seek out one that is better value for money, that also offers bulk buying incentives and discounts, and a longer return policy.
Top investigative research brought to you by the experts at Customer Review.