Da Vinci Laboratories Clear G.I. Review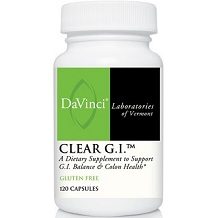 Da Vinci Laboratories Clear G.I. is a supplement that is designed to clear the colon of unwanted substances and toxins. This in turn improves the health of the gastrointestinal tract and colon. This review determines how effective the supplement is at fulfilling the manufacturer's claims. We take a look at the ingredients that the manufacturer chose to include, but also the price that they offer the supplement at to find out if the supplement has a good value for money.
Ingredients
Soluble fiber
Psyllium seed husk
Fructooligosaccharide
Flax seed
Apple pectin
N-acetyl glucosamine
L-glutamine
Peppermint
Chamomile
Aloe leaf
Horsetail Rush
Rosemary
Ginger root
Alfalfa
Beet juice
Chlorella cracked cell powder
Parsley
Raspberry
Acerola Berry
Cranberry
Watercress
Blessed thistle
Aribinolactans
Bentonite clay
Olive leaf extract
Black walnut powder
Kelp
Artichoke
Garlic
Burdock
Dandelion leaf
There is a very large number of ingredients included in Da Vinci Laboratories Clear G.I. We could find out the action of some of them- like apple pectin and psyllium seed husk, which contain high amounts of fiber that help to flush out the colon because fiber is a bulking agent.
Other ingredients, like aloe, have gentle laxative effects. Many of the other ingredients contain antioxidants which help to reduce inflammation in the colon.
Dosage
The manufacturer recommends taking 4 capsules a day between meals. The manufacturer doesn't specify the amount of each ingredient (although this would be difficult considering there are so many), but rather lists the ingredients as a set of proprietary blends. Each serving contains about 2500 mg of all the extracts together. The fibers make up the bulk of the product.
Possible Side Effects
Some of the extracts come from shrimp, some from crab and some from tree nuts, so customers who are allergic to these products are warned against taking this supplement. Pregnant women in nursing mothers are advised to consult their healthcare practitioners before taking this product.
Price
A package of 120 capsules can be purchased online for $29. This price does not include shipping or taxes. There does not appear to be any form of discount offered for buying several packages at once or subscribing for a regular reorder, as some other manufacturers offer.
Guarantee
We could not find any evidence that this manufacturer offers any form of guarantee or even has a returns policy. This means that customers are very unlikely to get their money back if they find that they are unsatisfied with their results when purchasing this product.
Conclusion of Our Da Vinci Laboratories Clear G.I. Review
Some of the ingredients included in this product show a lot of promise in terms of their functions and cleansing the colon. But we believe it is actually a problem that the manufacturer included so many ingredients, because there may be some unforeseen interactions between their compounds, which may reduce the overall efficacy of the supplement. There are also some ingredients which just have very little or no evidence to support their inclusion.
The price of Da Vinci Laboratories Clear G.I. is quite affordable but the purchase is still high risk because of the fact that the manufacturer doesn't offer a guarantee. For this reason, we believe there are better colon cleanse products out there.
Top investigative research brought to you by the experts at Customer Review.