Purely Inspired 7 Day Cleanse Review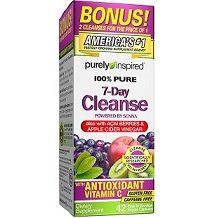 This product aims to help gently flush toxins from your system over a 7 day period. It claims to work by using a unique blend of ingredients such as Senna, digestive enzymes, and probiotics to help rid your body of waste build up and shed off a few extra pounds. With so many of these products on the market today, our goal is to review Purely Inspired 7 Day Cleanse in order to give you all the information you need to know before purchasing this product.
These are the facts:
Ingredients
Cleansing Blend – 856 mg
Acacia stem and branch
Senna Leaf Extract
Superfruit Blend – 220 mg
Acai Fruit Extract
Amla Fruit Extract
Kiwi Fruit Extract
Glutathione
Digestive Blend – 131 mg
Papain
Bacillus Coagulans
Fennel Seed
Ginger Root
Additional Ingredients
Hypromellose
Microcrystalline Cellulose
Silicon Dioxide
Magnesium Stearate
Senna leaf is commonly used as a nonprescription laxative which helps to clear any waste buildup in the colon. Apple cider vinegar contains acetic acid which helps to lower blood pressure. Acai is a berry that is known to be high in fiber and fatty acid, it is presumably effective for promoting weight loss, however, studies have not confirmed this theory entirely. The Amla fruit is very high in vitamin c and is a good source of essential minerals.  The digestive blend in this formula contains enzymes and probiotics that help to break down food making them easier for the body to absorb. Probiotics are essential for restoring the guts natural flora. While some of these ingredients may be beneficial for flushing out your system, there seems to be no groundbreaking proof that these ingredients can effectively help you lose weight.
Dosage
Purely Inspired recommends that you take 3 capsules with meals and 8 ounces of water once daily before bed. You should not exceed the recommended dose or continue it for more than 7 days.
Possible Side Effects
There are no side effects associated with this product, however, you should always consult a doctor if you are pregnant or nursing.
Price
Each box of  7 Day Cleanse contains 42 capsules which retail for $16.99 online. This product can be purchased directly from the manufacturer. Unfortunately, we were not able to find any discounts applicable to this product.
Guarantee
Purely Inspired will only refund you provided that you request the refund within 30 days of purchase and that the product has not been used. This is not much of a satisfaction guarantee but rather just a standard refund policy. Consumers have not been given the risk-free option of testing the product first before returning the product.
Conclusion of Our Purely Inspired 7 Day Cleanse Review
We appreciate the fact that this product only contains natural ingredients and does not have any additional fillers or binders, however, we feel that the weak guarantee policy makes this product a risky purchase. The ingredients in this product do not have enough evidence to show that this product can effectively help you lose weight. We also found many mixed reviews, many of them had complaints about digestive cramps and that they found this product to be ineffective for them. In conclusion to this review, if you are looking for a product that provides enough clinical proof and offers a sufficient guarantee, it may be in your best interest to look at alternative products.
Top investigative research brought to you by the experts at Customer Review.