Ultimate Colon Care Formula Review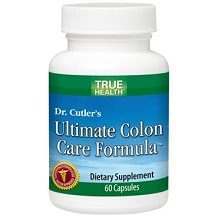 Somewhere along the line, digestion is an issue for just about everybody. In fact, some people find it difficult to eat regular meals or sleep at night because of an unsettled bowel. The address for digestion is, in part, the colon. It's like the "processing room" of digested food and waste.
When there are complications in the colon, digestion of food becomes a problem and can manifest as constipation, bowel discomfort or an unsettled stomach. Of course, there is no shortage of products which claim they can come to the rescue of those suffering from such conditions. One of these is Ultimate Colon Care Formula. Primarily made from Chinese Rhubarb, Ultimate Colon Care Formula is said to relieve indigestion, bloating of the stomach, constipation and other digestion related issues. This formula is also claimed to help settle the bowel and makes digestion and excretion easier, acting as a mild laxative. Below is our full review of this product.
Ingredients
The principal ingredients in this product include
Chinese Rhubarb
Digestive enzyme blends
Peppermint leaf
Bacillus Coagulans
Chinese Rhubarb along with Cape Aloe helps the body maintain a steady bowel, aiding the digestion of food and excretion of waste products. Peppermint leaf and ginger root extract help to ease digestion and reduce digestive tract gas.
Dosage
The recommended dosage is one capsule twice daily. It is best to take it before a meal.
You should not use this supplement on an extended basis, use it only when required.
Possible Side Effects
Those who suffer from diarrhea are advised not to use this formula as it may cause further complications. Also, during pregnancy, consult your doctor before you use the product as it may have serious adverse effects.
Other possible side effects include
Fatigue
Bloating
Dehydration
It should be noted that these side effects vary by individual depending on how the body reacts to the formula.
Price
At the time of our review, you could purchase Ultimate Colon Care Formula from Amazon for $29.99 for a 60-count container.
Guarantee
Judging by customer reviews, this formula works effectively and quickly. Unfortunately, we were not able to find a money-back guarantee from manufacturing company. While this is quite common among for colon-related products, it still puts the onus on you, and your wallet, if it doesn't work for you.
Conclusion on our Ultimate Colon Care Formula Review
Ultimate Colon Care Formula, as presented on Amazon, looks like it could be an efficient colon cleanse can product. Here are some advantages of the formula. At the time we researched this article, the product had over 100 customer reviews on Amazon with a good ratio of positive to negative feedback. However, there are some notable drawbacks for this product. First, the manufacturer's website was simply not available at the time of writing, which is not a confidence-building situation.  Second, there does not seem to be a money-back guarantee. Third, there is the possibility of unpleasant side effects.
Top investigative research brought to you by the experts at Customer Review.