GNC Preventive Nutrition Complete Body Cleansing Program Review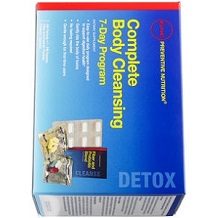 Do you wish to detox, improve your digestive health and overall wellness? Then this Complete Body Cleansing Program review is for you. This dietary supplement is produced by GNC Live Well. This is an internationally renowned health supplement manufacturer.
GNC has put together a 7-day detox program which rids the body of toxins and resets it to optimum health. This remedy incorporates herbs, enzymes, probiotics and prebiotics. Together, these remove impurities from the liver, kidney, spleen, blood circulatory system, immune system and digestive tract. As the name suggests, it is a 'complete' cleanse for the body's essential systems, not only for the liver or digestive tract.
Most people like to detox at the change of seasons, for example, in Spring or to kickstart a wellness or weight loss regimen. Detoxing is like a 'spring clean' for the body. Too much toxicity can manifest in several unpleasant ways, including:
Obesity
Lymph node issues, which can prevent weight loss, allergies, depression, migraines and more
Sleep disturbances
Brain fog
Compromised immunity
Poor colon and digestive health
Cancer.
The program consist of four packets which need to be taken daily. The four packets are:
AM Formula – promotes intestinal health and helps the body to break down carbohydates, proteins and fats
PM Formula – mainly targets the liver, kidneys and blood circulation system.
Probiotic Blend – supports the balance of bacteria in the gut to help with digestion and nutrient absorption.
Fiber and Prebiotic Blend – targets mostly the colon to keep bowel movements comfortable and regular.
Ingredients
AM Formula – digestive enzymes, ginger, artichoke and pomegranate with fructooligosaccharides (FOS)
PM Formula – digestive enzymes, cayenne, goldenseal, milk thistle, green tea and grape seed extract
Probiotic Blend – probiotics, acidophilus and bifidobacterium
Fiber and Prebiotic Blend – dietary fibers and other essential prebiotics.
The product is a quick but thorough cleanse, lasting only 7 days. Although waste elimination from the bowel is targeted, this is done gently so as to avoid sudden bowel movement onset. Milk thistle in particular has powerful antioxidant and liver support properties. Cayenne is well-known for its ability to boost metabolism, aid digestion and help with detoxification. Probiotics are fundamental to good gut health, as are prebiotics, which are necessary building blocks for probiotics.
We like that Complete Body Cleansing Program specifically targets the holistic health of the gut. Restoring the correct balance of bacteria in the gut is essential to long-term digestive health. There are good implications for the health of the whole body when the intestinal system is working well, and a number of diseases are prevented. The link between brain health and mood, such as overcoming anxiety and depression, and the health of the gut, have been scientifically documented.
Complete Body Cleansing Program also targets the whole colon, and not just the end as some products do.
The product is rich in fiber so possibly those suffering from IBS and diverticulitis may find it irritates the gut rather than soothes it.
Dosage
Take one AM packet in the morning, and the PM packet in the evening with a meal for 7 days.
Have the fiber and prebiotic blend every day mixed in one glass of water or juice. One capsule of the probiotic blend should be taken with dinner daily for 7 days. Complete the program in its entirety.
Possible Side Effects
If you are breastfeeding or pregnant, do not take this supplement. Do not give this supplement to children. Do not exceed the dosage as prescribed. Should you have an allergy to any ingredient, consult your doctor first. Should you develop abdominal pain or loose stools, stop taking this supplement.
If you have a known medical condition or are receiving specific medical treatment, get clearance from your doctor before taking this tablet. We would suggest that medical conditions include IBS and diverticulitis.
Price
You can buy the product for $28.99 on the product website. At the time of writing this review, that was the discounted price.
Guarantee
The supplement comes with a 30 day money back guarantee.
The Conclusion Of Our Complete Body Cleansing Program Review
The supplement is formulated to be a holistic cleanse of the liver, kidneys, spleen, digestive tract, colon and blood circulatory system. The fact that it is designed to work in a mere 7 days is a plus, as some detox programs take considerably longer. Complete Body Cleansing Program is also designed to improve overall health and immunity.
This detox comes with a diet plan to help you lose weight, should you desire to do so. Overwhelmingly, consumers report not losing weight. However, this is not the main goal of the program and weight loss would have to happen over a more sustained period. It is possible that though that regardless of weight loss, the body will receive a metabolic boost from these ingredients.
The product receives above average reviews, with a few consumers experiencing increased bloating and other abdominal issues. Due to the fiber content and colon-intensive ingredients, we do not think this product to be appropriate for IBS or severe diverticulitis sufferers.
Top investigative research brought to you by the experts at Customer Review.