Renew Life Rapid Cleanse Review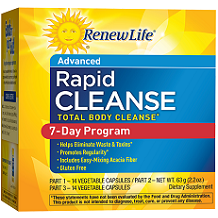 This is our review of Renew Life Rapid Cleanse. It is a 3-part herbal cleansing program containing 3 different supplements. It claims to be able to support detoxification, remove digestive toxins, promote healthy bowel elimination, all in one week. Continue reading for our full review.
Ingredients
Rapid Cleanse 1
Vitamin C – 300 mg
Proprietary Blend – Betaine Hydrochloride, Glycine, L-Glutamine, L-Methionine, N-Acetyl-Cysteine – 500 mg
Proprietary Herbal Extract Blend – Milk Thistle extract, Burdock root extract, Dandelion root extract, Dandelion Leaf extract, Fenugreek seed Extract, Garlic bulb extract, Mullein leaf extract, Oat straw extract, Oregano leaf Extract, Stinging Nettle leaf extract, Turmeric root extract, Bamboo leaf extract, Alfalfa juice extract – 254 mg
Rapid Cleanse 2
Dietary Fiber – 4 g
Soluble Fiber – 4 g
Rapid Cleanse 3
Magnesium – 230 mg
Eliminate Blend – Rhubarb root, Cape Aloe leaf, Marshmallow root, Slippery Elm bark, Triphala – 1200 mg
The ingredients are gluten free, contain no dairy, soy and artificial flavors. They also are intended to promote regular elimination and support the body's natural detoxification process. They provide support to the liver, lungs, lymphatic system, kidneys, skin, blood, and bowel – the body's pathways of elimination.
Dosage
It is recommended to take 2 Rapid Cleanse 1 capsules in the morning on an empty stomach, wait 30 minutes and take 1 level scoop of Rapid Cleanse 2 mixed with 8 ounces of water. Take another level scoop mixed with 8 ounces of water in the evening and drink another cup of water after. You may decrease to 1 scoop a day if elimination is sluggish. At night, take 2 of the Rapid Cleanse 3 capsules with 8 ounces of water. You should do all of these steps for 7 days. You should not use this product more than 4 times per year. Do not exceed the recommended daily dose.
Possible Side Effects
You should not use this product if you have or develop abdominal pain, diarrhea, or loose stools. Do not use this product if you are pregnant or nursing. You should speak with your doctor before using this if you are trying to conceive, taking medication, or have a medical condition. If you don't take the product with a full glass of water it may cause choking. You shouldn't use this product if you have difficulty swallowing, acute cough, or obstructed bowel. The ingredient rhubarb can cause stomach and intestinal pain, watery diarrhea, and uterine contractions.
Price
Renew Life Rapid Cleanse is sold for $29.99 on the manufacturers website. We were able to find it sold for $20.45 on another seller's website.
Guarantee
This product has a 100% satisfaction 60-day money back guarantee. You are able to return the product if you find that there has been poor quality in the manufacturing of it. You have 60 days to return it for a full refund minus shipping and handling costs. You will need to contact a customer service representative to assist you with the return process.
Our Final Review of Renew Life Rapid Cleanse
There are a couple of positive things about Renew Life Rapid Cleanse. It has a great customer guarantee which shows us that they are confident in the effectiveness of their product. There were also a bunch of positive reviews on the manufacturers website. In addition to cleansing their bodies, some customers were delighted that they lost some weight white taking it. There are also a couple of negative things. The warnings and possible side effects make us a bit nervous and we also read some negative reviews that we found on other sites. The reviews said that this product was not effective or it was too strong. Some even felt it was a waste of money. We feel that you can find something better elsewhere and do not recommend this product.
Top investigative research brought to you by the experts at Customer Review.