EHP Products Myristin Review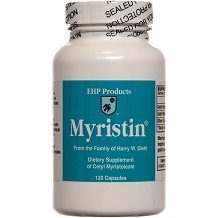 This review focuses on Myristin, a dietary supplement that claims to help regulate the immune system rather than simply treating the symptoms of inflammation and pain. This product does not directly act to relieve pain nor is it an anti-inflammatory or steroid or cortisone. It only works to support the immune system. It is based on the premise that joint inflammation, stiffness, and pain emanate from a weak immune, therefore, by supporting your immune system, your joints are attacked less, resulting in reduced inflammation and pain. Do you want to know more about this supplement? Read our in-depth review below.
Ingredients
The main ingredients in this product are:
Cetyl Myristoleate – 260mg
Cetyl Oleate – 180mg
Cetyl Myristate – 133mg
Cetyl Linoleate – 12mg
Cetyl Palmitate – 7mg
Cetyl Stearate – 6mg
Other Cetyl Esters – 52mg
Vitamin E – 2 IU
These Cetyl Esters are natural fatty acids that help keep the cartilage in joints healthy. These fatty acids in this product are derived from coconuts.
Dosage
Myristin is taken as a dietary supplement. Take three Myristin softgels daily with water on an empty stomach, about 30-45 minutes before meals or just after meals depending on your daily schedule. it is recommended to follow this dosage for at least two months. Then it is suggested to take one softgel a day or every other day to keep up results. Also, three
It is also recommended to take three Myrist-Aid capsules with each Myristin softgel at lunch and dinner, and two at breakfast for a total of eight Myrist-Aid capsules a day.
Possible Side Effects
Myristoleate has been tested at extremely high dosages and there are no confirmed side effects of this product. However, breastfeeding and pregnant women and people with liver conditions or disease should not use this product. If you have a sensitive stomach, you are advised to take the EHP Myristin powder capsule which contains 110 mg CMO per capsule which may be better tolerated.
Price
You can purchase Myristin online from the producer's official website or other online retail stores. A combination of one bottle of Myristin softgels (51 softgels) and Myristin-Aid (136 capsules) costs $54.95 when buying online. You can also buy more than package at a time for some savings. If you just want to buy Myristin, you will pay $44.95 online for 51 capsules. There are also deals when buying more than one bottle. There is an order form on the manufacturer's website where you can see all the purchasing options.
Guarantee
No information is provided on the company's' official website assuring customers the security of their money in case the product does not offer the desired results. However, you can contact them for clarification before you order.
Conclusion – Myristin Review
This product seems to be decent product for joint pain based on clinically proven ingredients. However, the dosage for this product seems to be complicated, particularly if you are taking both the Myristin and Myrist-Aid products together which will result in you taking a large number of tablets each day. If it is recommended to take these products together, it also makes us wonder about the effectiveness of Myristin alone. This product also does not come with any money-back guarantee for if you are unhappy with the results. We think you may be better off looking at other alternatives on the market.
Top investigative research brought to you by the experts at Customer Review.