MGN NO2XL Nitric Oxide Review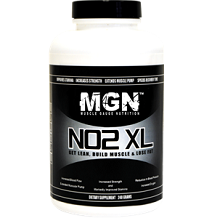 The following is a review for NO2XL Nitric Oxide and will examine the facts about this product. The manufacturer claims that this product offers the benefits of 250 servings of a nitric oxide boost in a cost-effective way. This product claims to be packed with vitamins and caffeine that will deliver your required energy to help you through your workouts.
Ingredients
L-Arginine-Alpha-Ketoglutarate – 3 g
L-Orthinine-Alpha-Ketoglutarate – 100 mg
L-Glutamine-Alpha-Ketoglutarate – 100 mg
L-Arginine-Ketoisocaproate – 25 mg
L-Arginine-Alpha-Ketoglutarate is a salt from an amino acid that is advertised as a bodybuilding supplement although, most research shows no improvement in muscle strength. L-Orthinine-Alpha-Ketoglutarate alters the way amino acids are used in your body and also boosts insulin which regulates blood sugar. L-Glutamine-Alpha-Ketoglutarate is a chemical that can be found in the body and helps to maintain muscle and can also help heal wounds. L-Arginine-Ketoisocaproate is a chemical amino acid that is converted by your body into nitric oxide which widens blood vessels to increase blood flow and circulation and also helps the release of growth hormone and insulin.
Dosage
This product's label suggests that one serving is one scoop which is 4 g. Unfortunately, there are no clear instructions that advise how often you may use this product or whether or not it should be taken with meals.
Possible Side Effects
There are no listed side effects according to the manufacturer, however, if you are pregnant, nursing, have any medical conditions or are using any medications, it would probably be a good idea to first consult a healthcare practitioner before using this supplement. It is cautioned that this product is manufactured in a facility that uses peanuts and therefore there may be possible allergic reactions that may cause some concern.
Price
Unfortunately, it seems that if you want to purchase this product directly from the manufacturer, you will be required to contact them. This product does not seem to be available from third-party retailers which is also disappointing.
Guarantee
There does not appear to be any kind of money back guarantee offered by the manufacturer of this product which does raise concerns regarding the quality and general effectiveness.
The conclusion of Our NO2XL Nitric Oxide Review
This product does seem to have some good ingredients used which may suggest that it could be beneficial as a workout supplement and it also seems to be a relatively safe product to use however, it is most unfortunate that you are required to contact the manufacturer in order to learn the price which is somewhat inconvenient for most people especially because you can not purchase it through alternative retailers. It is extremely worrying that there does not seem to be any kind of money back guarantee available that most other similar products do have, it may contain allergens and there are also no customer reviews on the manufacturer's website. With regards to all the significant aspects of NO2XL Nitric Oxide, this supplement, unfortunately, does not seem to stand out in any noticeable way when compared to any other similar product and therefore, it may be a good idea to consider other options when looking for an effective workout supplement.
Top investigative research brought to you by the experts at Customer Review.