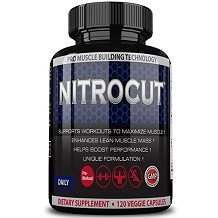 This Nitrocut review examines all necessary information about this product to determine if it is safe and effective. Nitrocut is a dietary supplement designed to help individuals build muscle quicker. This product aims to boost energy levels, allowing individuals to complete longer workouts. Nitrocut also relaxes muscles, allowing more blood flow to reach them, which allows muscles to recover faster after working out.
Ingredients
Nitrocut contains 11 active ingredients:
Vitamin D3
Vitamin B6
Vitamin B12
Arginine Alphaketoglutarate
Arginine AKIC
L-Arginine Monoydreate
L-Citrulline Malate
Tribulus Terrestris Extract
Eurycoma LongFolia Extract
Arginine and Citrulline ingredients are part of this product's Nitric Oxide booster. The Nitric Oxide booster allows for longer and more intense workouts. It increases blood flow to muscles and boosts metabolic responses. Citrulline gets rid of waste found in muscles, preventing the muscles from damage. This decreases fatigue, allowing for longer workouts.
Vitamin D3, B6, and B12 are all important nutrients for athletes and body builders. Vitamin D helps the body absorb calcium better, which has a positive effect on muscle contractions. Vitamin B12 converts food into energy and keeps the brain communicating properly with muscles.
Dosage
There are two different ways Nitrocut can be used. The first way is to use Nitrocut as a daily supplement. Take 2 to 4 capsules a day before breakfast. Or take them 45 minutes before lunch. Make sure to drink 64oz. of water each day.
The second way is to take Nitrocut as a pre-workout supplement. Take 2 to 4 capsule before working out. Nitrocut's instructions do not specify how long before working out the capsules should be taken. Make sure to drink 64oz. of water each day.
Possible Side Effects
There are no official side effects associated with this product. However, there are some customers who reported experiencing cold sore outbreaks and frequent urination after taking Nitrocut. However, there is no evidence suggesting that these reactions were a result of the supplement.
It is recommended to consult a doctor before starting a new workout routine.
Price
Nitrocut is available for a purchase through the manufacturer's website. Customers have four different package options. Customers can purchase one bottle for $59.99, three bottles for $197.97, or six bottles for $239.94. Each bottle contains 120 vegetarian capsules. Customers who choose to subscribe and save will receive a 30% discount.
Guarantee
The manufacturer offers a 90-day money-back guarantee. Customers who use Nitrocut for 90 days but are not satisfied with the results can return Nitrocut for a full refund.
Conclusion of Our Nitrocut Review
Nitrocut seems to be a decent body building supplement. It does not use additives or stimulants, making it safer to take than other supplements. It also eliminates the possibility of experiencing side effects. The majority of customer reviews are positive. Customers like that it gives them energy without making them jittery or causing them to experience a crash in their energy levels. Although, some customers have claimed they experienced adverse reactions. Although the manufacturer offers a 90-day money-back guarantee, Nitrocut is a little expensive even with the discounted packages. There are cheaper products on the market that are just as good.
Top investigative research brought to you by the experts at Customer Review.