Nutrex NIOX Advanced Review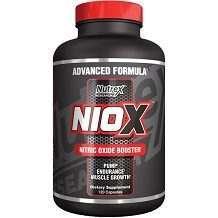 This Nutrex NIOX review details important information that allows potential customers to determine if this is the right bodybuilding supplement for them. Nutrex NIOX is designed to help individuals build muscles quicker. It helps increase blood flow to muscles, as well as pump nutrients and oxygen to muscles. NIOX also allows individuals to perform longer workouts. The end result is fuller and rounder muscles.
Ingredients
Nutrex NIOX Advanced contains four active ingredients:
L-Arginine Ethyl Ester
Glycerin
AgmaPure Agmatine Sulfate
Carnosyn Beta-Alanine
L-Arginine Ethyl Ester is a modified version of L-Arginine. The purpose of a modified L-Arginine molecule is to allow quicker absorption into the bloodstream than normal L-Arginine does. It is used to increase muscle mass and also acts as a precursor to Nitric Oxide, which relaxes blood vessels. Glycerin increases workout performance by increasing and maintaining the body's fluid content. Agmatine Sulfate has a few purposes. It increases appetite for underweight individuals, which allows them to gain muscle easier. It also gives individuals more energy during workouts, as well as encourages lean muscle growth. Finally, Beta-Alanine helps protects muscles and helps prevent muscle fatigue once a workout is finished.
Nutrex NIOX contains three inactive ingredients:
Vegetable Cellulose
Purified Water
Polysorbate 80
Dosage
Adults should take 3 capsules 30 minutes before breakfast and 30 minutes before dinner. Take the capsules with 10oz. of water. On workout days, take one serving 30 minutes before working out instead of before a meal. NIOX should be taken everyday in order to maximize results.
Possible Side Effects
There are no associated side effects for this product. No customers have reported experiencing side effects either. However, pregnant and nursing women should avoid using this product. Keep NIOX out of reach from children.
Price
Nutrex NIOX can be purchased through sites such as Bodybuilder.com. One 120-capsule bottle costs $29.56 on Bodybuilder.com. However, NIOX can also be purchased from other third-party websites, such as Amazon and Nutrahealthsupply.com. Prices differ slightly across websites. Amazon offers a 180-capsule bottle; however, it is currently unavailable. On Nutrahealthsupply.com, customers can purchase a 120 capsule bottle for $24.99.
Guarantee
After a thorough search, we could not find a guarantee provided by the manufacturer. However, many websites have their own return policy. For example, Bodybuilder.com allows customers to return unopened items, as well as opened items. Although, opened items only qualify for in-store credit, they do not qualify for refunds.
Conclusion of Our Nutrex NIOX Review
Nutrex NOIX seems to be a decent bodybuilding supplement. There are many customer reviews for this product, and the large majority of them are positive. Customers love how energized they feel while using this product. Some customers have complained about the taste and how many pills are supposed to be taken a day. However, customers have taken less than the recommended amount and have still seen results without experiencing side effects.
NIOX is a little cheaper than similar products being sold. However, one bottle only last 20 days. This product also does not seem to come with any manufacturer's guarantee and you will have to do your own research as to the best place to buy this product. We could also not find much information about the manufacturing procedures of this product and if it has a cGMP certification.
Top investigative research brought to you by the experts at Customer Review.