Pure Encapsulations Nitric Oxide Support Review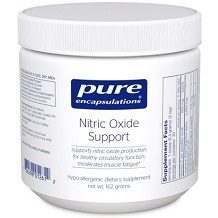 This is a review of the nitric oxide booster, Nitric Oxide Support, manufactured by Pure Encapsulations. Unlike much of the competition's capsule formulations, this nutritional supplement comes in powder form. It is formulated to promote optimal amount of nitric oxide in the body. Its manufacturer says it supports healthy circulation and facilitates supply of oxygen to "working muscles." The product is also said to enhance energy production in your muscles during workouts and to protect against muscle fatigue and oxidation. Perhaps, you are looking to supplement with a nitric oxide booster. Our Pure Encapsulations Nitric Oxide Support review should help you decide if this is the right choice for you.
Ingredients
The formula contains the following main active ingredients (including amount of each per serving of 5.4 grams):
• L-Arginine [from Arginine Alpha Ketoglutarate (2:1)] – 2,050 mg.
• L-Citrulline (from Citrulline malate) – 715 mg.
• Vitamin C (Ascorbic acid) – 200 mg.
L-Arginine is a popular inclusion in top nitric oxide supplements for enhanced workout benefits. It promotes efficient circulation and enhanced oxygen supply to muscles while also protecting muscles from oxidation. Citrulline promotes nitric oxide production, enhances aerobic energy in muscles during training and delays onset of muscle fatigue. Vitamin C amplifies the effect of Arginine and Citrulline while also protecting against free radical damage in the body.
Dosage
Pure Encapsulations recommends using a scoop of Nitric Oxide Support powder per day – that is about 5.4 grams. You are to mix this with water and drink about 20 minutes before you begin your workout. The company says you may also take it after workouts for growth hormone production and ammonia detoxification.
Possible Side Effects
We did not find any mention of side effects while researching for this review. The company making the supplement, however, suggests that pregnant or nursing women should consult a doctor before using. You should do same if you have any medical condition or on medications.
Price
Nitric Oxide Support is available for purchase online and comes in a 162-gram container, a one-month supply if you follow the recommended dosage. The price is $37.30 on the manufacturer's website. It is possible that you may get it at a cheaper price when buying from a third-party retailer. Large bulk purchases are subject to small discounts. For example, if you order $500 worth of product you receive a 5% discount, $1000 entitles you to a 7% discount, $2000 will bring a 10% discount. These reductions seem to be aimed more at wholesale buyers than retail customers.
Guarantee
The company offers a rather limited return/refund policy, requiring returns be made within 30 days. All returns, even those necessitated because of the company's error, are subject to a 15% return fee.
Conclusion of Our Pure Encapsulations Nitric Oxide Support Review
This supplement is potentially beneficial and appears safe. Its maker says it is non-GMO and is gluten-free. Inclusion of vitamin C in the formula enhances the nitric oxide-boosting potency of Arginine and Citrulline. However, some consumers may find the price of Nitric Oxide Support to be somewhat on the high side. This, combined with the restricted return/refund policy is not the optimal combination we feel comfortable recommending.
Top investigative research brought to you by the experts at Customer Review.