Irwin Naturals Mighty Moringa Review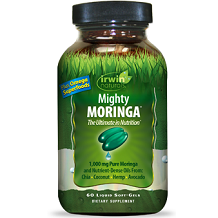 Even five year ago, the general population across the United States was not as familiar with Moringa as they are today.  Moringa is known as the Miracle Tree for a very simple reason – because it is full of minerals, antioxidants, vitamins, nutrients, and lowers cholesterol too.  It is also known to be helpful with goals to lose weight because Moringa slows the release of sugar in the blood which inhibits fat formation. But not just weight, it's helpful with high blood pressure, stomach pains, arthritis, and kidney issues to name just a few.  In search of finding the best Moringa product on the market, we are reviewing Irwin Naturals Mighty Moringa to both learn more about the product and understand what this product has to offer and whether it considered highly rated by users around the country.
Ingredients
The main ingredients are as follows:
Moringa (Horseradish Tree)(Moringa Oleifera) – 1000 mg
Hemp Seed Oil – 400 mg
Coconut Oil – 300 mg
Avacodo Oil – 200 mg
Chia Seed Oil – 100 mg
BioPerine Complex (BioPerine Black Pepper Extract, Ginger Extract) – 6 mg
Other Ingredients in this product are as follows: Gelatin, Purified Water, Glycerin, Soy Lecithin, Silicon Dioxide, Titanium Dioxide, SodiumCopper Chlorophyllin.  Mighty Moringa contains both Soy and Tree Nuts (Coconut, Palm Kernel); preservatives have not been added.
Two capsules have 1000 mg of Moringa which falls short of the daily recommendation for Moringa which is 1200 mg and will therefore likely be less effective overall.
Dosage
The dosage instructions for this product state to take two softgels each day with a meal and a glass of water.  The product label states to take 2 liquid softgels daily with a meal and a full glass of water. One bottle of this supplement is a one month supply of the product.
Possible Side Effects
Do not exceed the recommended daily intake and this product should not be used for children under 18 years of age.  If you are pregnant or nursing, you should not use this product at all as chemicals in the root, bark, and flower may cause the uterus to contract.
Price
It is possible to purchase Mighty Moringa both online from the manufacturer directly and from third-party retailers.  The manufacturer sells a bottle with 60 softgels for $16.33. Third party retailers sell the product for $15, and therefore it's worth it to do some comparative price shopping before you make the purchase to be sure you're getting the lowest overall price per bottle.
Guarantee
There is a guarantee on the manufacturer's website about the high quality of the product and the fact that if you are dissatisfied for any reason at all, the manufacturer will offer you a full refund and even pay the shipping costs.
Conclusion of Our Irwin Naturals Mighty Moringa Review
Mighty Moringa is a truly nutritious food filled with Moringa, coconut, avocado oils and chia, and will definitely fill in the nutritional gaps of your diet but there are competitive Moringa products that have larger quantities of Moringa – as much as 1200 mg in two capsules.  It is our recommendation that while you are investing in a product such as this, that you get as much bang for your buck so that you can benefit from the optimum effects of taking such a daily supplement.
Top investigative research brought to you by the experts at Customer Review.