Live Well Labs Pure Moringa Extract Review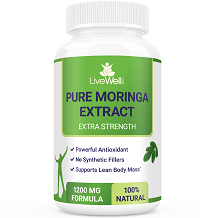 Coined as the "Tree of Life" for its various health benefits, there are a myriad of different Moringa supplements available on the market andit can be hard to differentiate between all of the options.This Live Well Labs Pure Moringa Extract review is going to take a closer look at the facts and details to learn more about how this Moringa supplement works and to see if it's worth trying out. The manufacturer claims that their Moringa supplement is the most premium version of Moringa extract and has no fillers, binders or synthetic ingredients.
Ingredients
The only ingredient in this supplement is Moringa Oleifera leaf powder. Every serving has 1200 mg and is enclosed in a vegetarian capsule. Moringa is a plant that is native to Asia and contains proteins, vitamins, and minerals that offer a wide array of health benefits. It is a strong antioxidant that can protect your cells from damage. When taken orally it is believed to support healthy respiration and can relieve anemia, arthritis, constipation, diarrhea, stomach pains, high blood pressure, kidney stones, thyroid disorders and can help increase milk supply for breastfeeding mothers.Hemp seeds are rich in protein, polyunsaturated fatty acids, omega 6, omega 3 and insoluble fiber. They are also a good source of Vitamin E antioxidants.
Dosage
The manufacturer does not share the dosage recommendation on their website and we were unable to find them anywhere online. It is worthwhile contacting their customer service to inquire about their dosage information.
If you are pregnant, nursing or have a medical condition, you should talk to your doctor before taking this supplement.
Possible Side Effects
Although the manufacturer does not list any possible side effects we found common mild side effects associated with Moringa to include nausea, diarrhea and heartburn. It is generally not recommended for pregnant or nursing mothers to take Moringa even though it is believed to increase breast milk production.
Price
You can purchase this supplement directly from the manufacturer. One bottle costs $49.95. They also offer the option to purchase a package of three bottles for $139.95 or a package of six bottles for $240.00.
Guarantee
The manufacturer offers a 365-day return policy but they do not specify if their policy applies to both opened and unopened items.
Conclusion of Our Live Well Labs Pure Moringa Extract Review
Live Well Labs Pure Moringa Extract appears to be a promising Moringa supplement. Every serving has a decent amount of Moringa and it comes in easy to swallow capsules for convenience. However, the manufacturer leaves out necessary product information like the dosage instructions which is crucial information to know when choosing a supplement. Furthermore, the price per bottle is significantly more expensive when compared to most other Moringa supplements we have seen on the market. Even with the discounted bulk purchasing options, the price difference is nearly negligible. You are better off choosing a Moringa supplement that is reasonably priced and one that is forthcoming about all necessary product information.
Top investigative research brought to you by the experts at Customer Review.