Research Verified Moringa Oleifera Review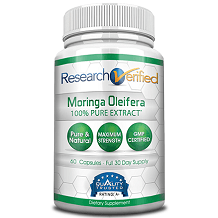 This is our review about Research Verified's Moringa Oleifera, which is a supplement that aims to deliver effective weight loss results thanks to its all-natural ingredient. Unlike other weight loss supplements that contain added ingredients, Moringa Oleifera doesn't contain any additives and binders which means that you are getting the full benefits of this plant. This product is designed to provide its users with a supplement that will help them lose weight. An added benefit to using Research Verified's Moringa Oleifera supplement is that it can also increase one's energy levels. This supplement is manufactured in an FDA and GMP-certified laboratory for a quality supplement which you can learn more about in this Research Verified review.
Ingredients
Moringa Oleifera (Leaf) Powder Extract
Vegetarian Capsule
The Moringa Oleifera powder extract is known to suppress one's appetite to facilitate the burning of stored fat for energy. Other benefits that are linked to Moringa Oleifera include the treatment and prevention of diabetes, prevention of cancer, as well as providing nutritional support when ingested. Among the nutrients that Moringa Oleifera contains are Vitamin A, iron, Vitamin C, potassium, and calcium, just to name a few.
Dosage
Based on our research, the recommended dosage for Research Verified's Moringa Oleifera is two capsules per day as a dietary supplement. Customers should take one capsule in the morning and one capsule in the evening. It is also possible to take two capsules at the same time.
Price
The price for a single bottle of Research Verified's Moringa Oleifera is $48. For their most popular package, which is the three months' supply, you will need to pay $98. As for the six months' supply, each bottle is priced at $24 for a total cost of $142. Research Verified offers discounts when customers buy in bulk.
Guarantee
Research Verified offers a 365-day money back guarantee for their Moringa Oleifera supplement which gives customers plenty of time to try the efficacy of this diet supplement. The money-back guarantee is put in place to reduce the risk to the customer when trying Moringa Oleifera for the first time. Their policy is relatively simple, if you are not 100% satisfied with the results of taking this diet supplement, you can return the bottles, both opened and unopened, back to the manufacturer for a full refund. Customers who are planning on purchasing several months' worth of this supplement will still be covered by the money-back guarantee if they are not happy with the results.
Conclusion Of Our Research Verified Moringa Oleifera Review
After an extensive research on Research Verified's Moringa Oleifera supplement, we have determined that this diet supplement is the real deal. We have not seen any other ingredients included in the supplement making Research Verified's product 100% all-natural. In terms of price, the manufacturer offers reasonable discounts for those who will purchase their product in bulk. The quality of the ingredient used in Moringa Oleifera supplement has undergone clinical trials with the dosage following the recommendations of doctors and medical experts. As for the money-back guarantee, when compared to other supplements, Research Verified is one of the very few that offers a 365-day money back guarantee. Based on our research on customer reviews, most of the customers who tried this supplement are full of praise and commend the lack of side effects when the product is ingested.
Top investigative research brought to you by the experts at Customer Review.