Bio Nutrition Caralluma Review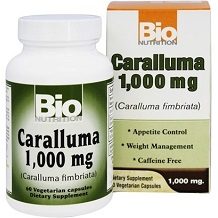 Those who have tried to lose weight through diet know the struggles of fighting hunger pangs and cravings. Even the most committed can find themselves in the need for an extra weight loss boost to help them meet their weight loss goals. This review is going to examine Bio Nutrition Caralluma. Caralluma is a cactus plant that grows in the wild mainly in India but can also be found in Africa, Saudi Arabia, Canary Islands, Afghanistan and Southern Europe. In previous eras, Indian tribes would chew chunks of Caralluma to decrease their appetites during a long hunt or during a period when food was scarce. Today, Caralluma is taken in the form of a supplement to help decrease appetite for weight loss purposes. It is also believed to quench thirst and increase endurance. Bio Nutrition claims that by taking their supplement you will experience a suppressed appetite that will lead you to weight loss. 
Ingredients
The only active ingredient in this supplement is Caralluma that is enclosed in a vegetable capsule. Chemicals in Caralluma are thought to decrease appetite, quench thirst and increase endurance.
Dosage
Bio Nutrition recommends taking 2 capsules of Caralluma once or twice daily, half an hour before a meal. Take with water or as recommended by your doctor.
Possible Side Effects
Bio Nutrition does not list any potential side effects on their website. Common, mild side effects associated with taking Caralluma are stomach upset, intestinal gas, constipation and stomach pain. However, after your system grows accustomed to Caralluma, these side effects are expected to stop within a week.
Price
Bio Nutrition lists one 60-capsule bottle of Caralluma for $14.95. There are no bulk purchase discounts or packages.
Guarantee
Bio Nutrition offers a 30-day money back guarantee. However, the process of obtaining a refund is complicated and lengthy and all returns will be subject to a 10% restocking fee. The product must be returned in the original packaging, including the outer box with the UPC code, with the dated receipt from the retail location it was purchased and with an explanation of dissatisfaction.
Conclusion of Our Bio Nutrition Caralluma Review
Bio Nutrition Caralluma seems to be an ample product as it does contain a high amount of Caralluma per serving.  The price also seems to be fair considering it does offer a full month's supply per bottle. However, Caralluma can be taken daily for a lifetime to derive from its health benefits but the manufacturer does not offer bulk purchasing options to make it financially easier. Bio Nutrition offers general information about some of the benefits of taking Caralluma but offers nearly no information about what sets their product apart from other brands of Caralluma. There are extracts derived from natural Caralluma and synthetically made versions of Caralluma. Bio Nutrition does not state which one their product is derived from and therefore we can only assume it is synthetic. The general recommended dosage for optimal results from taking Caralluma is 1,600 mg twice daily and this capsule only offers 1,000 mg. With several other brands of Caralluma on the market that offer transparent and extensive information about their product and offer capsules with the accurate and recommended dosage, we do not feel confident in choosing Bio Nutrition Caralluma.
Top investigative research brought to you by the experts at Customer Review.