Now Slimaluma Plus Review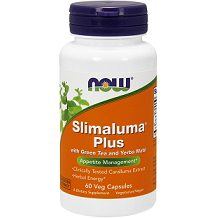 Today we review Now Slimaluma Plus. This supplement contains extract from the Caralluma plant, a succulent found in India. With the addition of green tea and yerba mate, this supplement will help control your appetite to help you lose weight.
Ingredients
Slimaluma Extract (Caralluma fimbriata)
Yerba Mate Leaf Extract
Caralluma is clinically shown to help slow down your appetite which can help you eat less and, in turn, lose weight. While green tea and yerba mate can also help you lose fat, our research has shown that this type of supplement works better when it is 100% caralluma extract, not muddled by other ingredients.
The rest of the capsule is made up from a vegetarian capsule. Also, this supplement is free from the most common food allergens, like gluten, milk, eggs, shellfish, and tree nuts. This allows almost anyone to be able to use this pill.
Dosage
Each dose of this supplement is 2 vegetarian capsules. You should take two doses per day, each one 45 minutes before a meal. By taking two doses daily, you will get the clinically recommended 1000 mg of caralluma extract needed for optimal results.
Possible Side Effects
While not stated on the website, a few customer reviews of this product did mention feeling out of sorts when taking this supplement. They could not fully define how they felt but that they felt weird. The manufacturer does warn that only adults should take this supplement and that you should consult a doctor or other healthcare physician before beginning this product if you are pregnant, nursing, or have any other preexisting medical conditions.
Price
Each bottle contains 60 capsules, which should last for one month. The manufacturer's suggested retail price of one bottle is $24.99, and purchasing this product directly on the manufacturer's website does not include shipping unless your order is over $75. While researching this product, we ran into other third party sites, like Amazon, that have this supplement listed for only $14.65 plus free shipping.This shows that you need to make sure you have looked at other prices for this product to make sure you are getting the best deal.
Guarantee
Now, as a company, does not have a money-back guarantee on their products. Instead, if you purchased your items directly from their website, you can get a refund only for unopened products that you return within 60 days. Your refund will be for the purchase price of the product, minus any shipping charges. Additionally, the manufacturer reserves the right to take a 15% restocking fee on some orders, but does not specify what will make them decide to take that fee.
Conclusion of Our Now Slimaluma Plus Review
There are a few things we liked about Now Slimaluma Plus. The daily dose does get you the optimal amount of caralluma extract. Also, these capsules are vegetarian and free of almost all food allergens.
Unfortunately, we found many concerns regarding this supplement. While you will receive the optimal dose of the extract, this supplement is not 100% caralluma. Secondly, some customers reported not feeling well after taking this supplement. Lastly, there is no guarantee for this product, and the return policy includes a 15% restocking fee. For these reasons, we cannot recommend the use of this supplement to help you lose weight.
Top investigative research brought to you by the experts at Customer Review.