Migraine Treatment Group Migraine Formula Review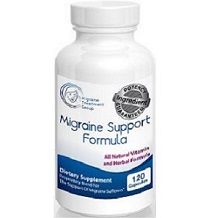 Migraine Treatment Group Migraine Formula is the subject of our product review today. Migraine Formula is a product that might help the consumer's body to naturally build a defense against migraine conditions and triggers, as it shocks the system into reducing migraines immediately.
Ingredients
Main Ingredients:
Riboflavin
Niacin
Vitamin B6
Magnesium
Ginger
Coenzyme Q10
White Willow Bark
Ginkgo Biloba
Butterbur
Black Pepper
Other Ingredients:
Riboflavin and Niacin reduce the recurrence rate and frequency of a migraine. Magnesium reduces the vasospasm levels during the attack. Ginger reduces pain and nausea. Coenzyme Q10 prevents migraines. White Willow Bark, and Ginkgo Biloba provide anti-inflammatory benefits, and pain relief. Ginkgo also improves circulation in the body and brain. Feverfew assists by reducing the occurrence and severity of migraines. Butterbur assists as an anti-inflammatory and acts as a muscle relaxant. Black Pepper assists by substantially increasing bioavailability and decreasing the absorption time. Lacking in this formula are the ingredients Wild Yam Root and Bromelain. Magnesium Stearate poses a threat as a contaminant, which may affect the  supplement's outcome.
Dosage
The recommended dosage is to take four capsules daily. Take two at a meal twice a day.
Possible Side Effects
Consult with your healthcare provider before using this supplement especially if you are taking blood thinners, are pregnant, or nursing. There have been a few reports of Magnesium causing diarrhea and gastric irritation.
Price
You can purchase a one month's supply of this supplement for $63 plus $6.97 shipping and handling costs directly from the manufacturer's website. A 3 month (3 bottle supply) costs $129 plus shipping and handling, or you get a free 2 week trial bottle and just pay shipping and handling. After 2 weeks you will automatically be enrolled in a $43 monthly subscription that you can cancel at any time.
Guarantee
This product comes with a one-year money back guarantee. If you are not satisfied with the product you may return it for a refund less shipping and handling charges.
Conclusion of Our Migraine Treatment Group Migraine Formula Review
We liked that this supplement comes with a generous 1 year guarantee and return policy. There is a discounted bulk buying option to get 3 bottles for about 30% off the regular price. There is a free 2 week trial size bottle you can try also. International shipping is available at no extra charge. Some not so positive comments relate to the fact that shipping and handling are added to the purchase price and there is no free shipping option. This is a costly product to purchase considering that a one month's supply of this supplement costs $63 plus $6.97 for shipping and handling. The guarantee although generous does not mention if you can return opened bottles of the supplement for a refund. There is no assurance from the manufacturer that the product is made in an FDA certified facility, that its ingredients are non GMO, or that it is free from fillers, binders and artificial ingredients. For all these reasons we are unable to recommend this product as a migraine supplement. We suggest that you seek out a better priced product with decent bulk buying discounts, and a return policy that allows you to return opened bottles of capsules.
Top investigative research brought to you by the experts at Customer Review.