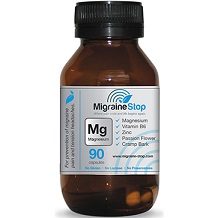 It is estimated that 2-3 million Americans suffer from chronic migraines and will lose out on days of work because of them. Those experiencing migraines don't have the time or money to waste on on products that don't offer effective results. This Migraine Stop review is going to take a closer look at the facts and details to learn more about how this migraine treatment works and to see if it's worth trying out for effective migraine relief. The manufacturer claims that hat Migraine Stop is an all natural daily supplement that has helped many people who suffer from minor to severe migraines. They claim that their product is effective because of the quality and precise ratios of their ingredients.
Ingredients
Magnesium Acid Chelate – 1200 mg
Magnesium Orotate – 195 mg
Magnesium Citrate – 300 mg
Vitamin B6 – 75 mg
Vitamin B3 – 45 mg
Folinic Acid – 900 mcg
Zinc Amino Acid Chelate – 60 mg
Viburnum Opulus – 600 mg
Passionflower – 300 mg
Other Ingredients: Magnesium Stearate, Silica, Vege Caps
Magnesium is necessary for synthesizing proteins in the mitochondria and for generating energy in most of the body's basic cellular reactions. Vitamin B6 helps your body use serotonin and dopamine which are two neurotransmitters that are necessary for normal nerve cells communication. Studies have shown that those experiencing a migraine have lower levels of serotonin. Viburnum Opulus is known to relieve muscle cramps and can reduce the pain of a migraine.
Dosage
The manufacturer recommends for those who have occasional migraines or headaches to take two capsules daily, with food. For those who experience chronic migraines, you should take two capsules daily, with food for two weeks then begin taking three capsules daily thereafter. Take the capsules all at once for best results as opposed to spreading it out through the day.
If you are pregnant, nursing or under medical supervision, talk to your doctor before taking this supplement.
Possible Side Effects
More than 300 mg of magnesium can cause mild diarrhea. This product contains exactly 300 mg per serving.
Price
You can purchase Migraine Stop directly from the manufacturer and from third-party retailers. We found one 90-capsule bottle online for $49.95. They offer the option to subscribe for automatic refills and save 10% on your future orders.
Guarantee
We were unable to find any mention of a manufacturer's guarantee and it appears that they do not offer one.
The conclusion of Our Migraine Stop Review
Migraine Stop appears to be a promising migraine treatment. It is made from all natural ingredients and it comes in easy to take capsules for convenience. However, this product is not backed by a manufacturer's guarantee which means that if you purchase Migraine Stop and are dissatisfied for any reason, you cannot get your money back from the manufacturer. Furthermore, the price per bottle is expensive relative to other migraine treatments that are available on the market but the manufacturer does not offer any discounted bulk purchasing packages to make it easier to afford to regularly take their supplement. With so many migraine treatments available on the market, you are better off choosing a supplement that is backed by a strong manufacturer's guarantee for consumer protection and one that offers affordable purchasing options.
Top investigative research brought to you by the experts at Customer Review.